Pawn Stars: Volume 3 DVD Review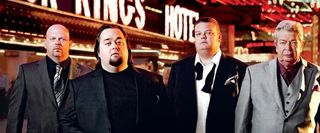 After putting out the first two full seasons of Pawn Stars on DVD, it would stand to reason the Season 3 release would follow suit. Unfortunately Pawn Stars: Volume 3 offers the first 16 episodes from Season 3, out of order. The other 14 episodes aired on History are absent. On top of this, episodes are marked as "fan favorites" rather than the first half of Season 3. Regardless of these marketing issues, the episodes themselves are still worth a watch.
The premise for Pawn Stars is simple. People show up at the Gold & Silver Pawn Shop in Las Vegas hoping to sell their stuff. If they have something interesting or something truly worth a dime they will talk to owner Rick Harrison, his son Corey, or Rick's father, dubbed "The Old Man." Items with historical value generally require an expert to be brought in to authenticate and give a pricing estimate. Generally, Rick and The Old Man have some knowledge about most items in their back pockets, as well.
For a low-budget reality show, Pawn Stars has finessed its format over the years, figuring out which "experts" make for the best television and working on creative new ways to throw historical facts and trivia onto the screen. Even without the full Season 3 on the discs, if you've watched each year, you'll be able to appreciate how much more comfortable the staff and crew seem to be with putting together the show.
Even if Pawn Stars: Volume 3 isn't the set you signed up for, there is still enough to get excited about on the two discs to possibly make it worth the purchase. As usual, it's pretty great to watch Chumlee bumble through most purchases and then get his act together whenever games or tennis shoes come around. Highlights of things brought into the shop include a Faberge Black Widow Spider brooch, a ton of guns, a room full of Transformers toys, and J.D. Borthwick's gambling set, complete with a hidden pistol compartment.
There are no bonus features on the Pawn Stars: Volume 3 set. Since they cut out half the episodes, losing the bonus features isn't much of a surprise. Season 3 has some great stuff; it's just a shame we don't get it all. I'm especially pissed about losing the episode Chumdog Millionaire, featuring Meredith Vieira. The biggest bummer? When I first opened the disc, I honestly thought I was getting fan-favorite episodes. Season 3 is well and good, but the quality of things coming into the shop wildly varies from day to day. With that in mind, some episodes are gonna hit it out of the ball park and some are only mildly interesting. Pawn Stars: Volume 3 might not be all we'd wish for, but it's still a great way to learn cool facts. That's probably worth 25 bucks, right?
Length: 200 min.
Distributor: A&E Home Video
Release Date: 10/18/11
Starring: Corey Harrison, Richard Harrison, Rick Harrison, Austin 'Chumlee' Russell
Directed by: Jairus Cobb, Guy Fiorita
Produced by: Mary Donahue, Colby Gaines, Brent Montgomery, David McKillop
Written by: Brian Greene, Greg Volk
Your Daily Blend of Entertainment News
Thank you for signing up to CinemaBlend. You will receive a verification email shortly.
There was a problem. Please refresh the page and try again.