Peter Pan Will Be NBC's Next Live Musical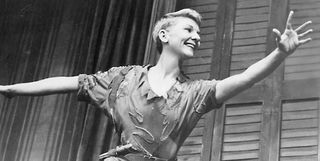 Following word that NBC was set to air another live musical broadcast comes the announcement that the production they've selected for the 2014 holiday season is Peter Pan. While I was personally hoping for Bye Bye Birdie, Peter Pan seems like a wise choice, given that it fits the bill of family-friendly, classic and widely known.
An old codfish like Captain Hook may not appreciate this news, but Peter Pan is probably crowing proudly from Neverland. EW reports that NBC's Robert Greenblatt reported the news at the TCA press tour today, noting the Mary Martin connection between NBC's last live musical broadcast and their upcoming one. Martin starred in the stage production of The Sound of Music, which was later adapted for a feature film starring Julie Andrews. Martin also starred as the title character in a musical stage production of Peter Pan, which debuted in 1954 and was recorded in 1960. That recording went out on VHS in the 90s, which allowed the production to become beloved and celebrated by later generations. Pan fans are also likely very familiar with the character, thanks to Disney's animated adaptation of the story, which released in 1953.
Going back to Martin's production, that does call to question NBC's plans for casting. Will they be looking to put a woman in the role of Peter Pan? EW says Greenblatt joked that he wanted Miley Cyrus for the part, but said they're more likely to cast a male lead. Greenblatt also promised "flying children and some kind of state-of-the-art light technology for Tinkerbell." That is exciting! Disney's film and movies like Hook have had Tinkerbell represented as an actual visible character, however the original stage production had Tink represented as a flashing light. From what Greenblatt says, it sounds like they may be going that route again, which means we might not expect to hear any casting news about that role. But it will be interesting to see what kind of light technology they have planned to represent the magical and occasionally sassy fairy.
It seems likely that casting is something the producers and NBC are going to pay close attention to. That probably goes without saying, but factoring in the response to The Sound of Music Live, which was mixed, especially as it related to the performance of its lead, NBC will hopefully aim to cast seasoned actors for the lead roles. If there was one notable issue — and frequent criticism — with the highly rated broadcast of The Sound of Music Live, it was Underwood's uneven performance, as she excelled vocally, but didn't quite measure up on the acting side. So it'll be particularly interesting to see what choices they made in the casting department for roles like Peter Pan, Captain Hook, Wendy and others.
In the meantime, here's Mary Martin's rendition of Peter Pan's "I Won't Grow Up"…
Kelly joined CinemaBlend as a freelance TV news writer in 2006 and went on to serve as the site's TV Editor before moving over to other roles on the site. At present, she's an Assistant Managing Editor who spends much of her time brainstorming and editing feature content on the site.
Your Daily Blend of Entertainment News
Thank you for signing up to CinemaBlend. You will receive a verification email shortly.
There was a problem. Please refresh the page and try again.