Phineas And Ferb Creators Earn New Contract With Disney, Plan Two New Series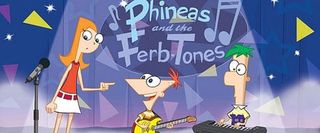 A lot of people equate Disney with emotionally tugging, goofy, live-action comedies that play out like Nickelodeon's boring stepsister. In some ways that opinion holds true: Nickelodeon has a better grasp of animated, family friendly comedies than does Disney. However, Nickelodeon hasn't won the animated kid's comedy market across the board. Disney has Phineas and Ferb, a half hour program that boasts witty ideas, great voice acting, and the capacity to garner interest from various age groups.
Phineas and Ferb is anything but boring, but it is a rarity on the cable network. So, it's no surprise Disney Television Animation has locked down creators Dan Povenmire and Jeff "Swampy" Marsh, for a multi-year, multi-million dollar contract. As part of the deal the two creators will be involved with the Phineas and Ferb feature film currently in development. According to Deadline, the two are planning a spinoff series, as well as a brand new pilot. They'll be making a bit of money, but it looks like there will be a lot of work involved.
If you haven't caught Phineas and Ferb, it is nearly as weird as the younger age group-oriented Yo Gabba Gabba! and it has the tendency to work in underhanded but hysterical comments often missed on the first run through. That's a quality inherent in good comedies. It's a quality that has won the program Emmys and the highest viewer debut for a made for TV movie in 2011 with this month's Phineas and Ferb: Across the 2nd Dimension. The show may leave out the raunch inherent in adult animation and may be missing the automatic thumbs up comedy lovers will give Nickelodeon programs, but it has the heart and wit of the better Dreamworks films, and I would argue that's a step in a new direction for Disney that will prove fruitful.
Your Daily Blend of Entertainment News
Your Daily Blend of Entertainment News
Thank you for signing up to CinemaBlend. You will receive a verification email shortly.
There was a problem. Please refresh the page and try again.