The Playboy Club's Naturi Naughton Joins Lifetime's The Client List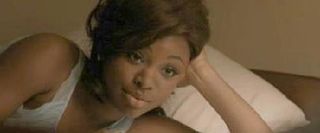 Jennifer Love Hewitt's successful Lifetime TV movie The Client List did so well in the ratings, the network announced it wanted to remake the movie into a TV series, also starring Hewitt. The whole deal came together way back in August, with Lifetime ordering 10 episodes of The Client List for 2012. Since the new year is coming up, it seems high time we received a little more news on the project. Turns out new news has come in the form of a series regular.
Naturi Naughton is set to play series regular Kendra on the upcoming Texas-based show. According to Deadline, Kendra will play an employee of The Rub, a massage parlor run by Riley (Hewitt). Kendra is described as both attractive and a thorough worker who gives massages. Kendra was not a character that appeared in the original Client List film, so it will be interesting to see how they integrate her character into the storyline.
If Naughton's name sounds familiar, it's likely because you remember her as Brenda, the African American bunny from NBC's The Playboy Club. Her schedule only recently opened up after The Playboy Club was cancelled. Naughton was actually one of the reasons I watched The Playboy Club up until its untimely demise, and it's good to see she's picked up her feet and found another regular role fairly quickly. Here's to hoping The Client List fares a whole lot better than Naughton's former series. She definitely deserves it.
Your Daily Blend of Entertainment News
Your Daily Blend of Entertainment News
Thank you for signing up to CinemaBlend. You will receive a verification email shortly.
There was a problem. Please refresh the page and try again.