President Obama Requested Advance Screeners Of True Detective And Game Of Thrones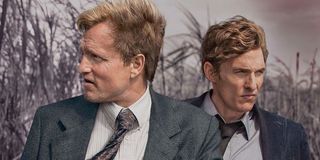 There are an insane amount of responsibilities that come with being the leader of the free world, but there are also some pretty cool perks, like a kitchen required to cater to your every whim, and the power to ask for advance copies of some of America's most anticipated series, like True Detective and Game of Thrones.
The Wrap reports that at last week's state dinner for President Francois Hollande--that had celebs like Bradley Cooper and Stephen Colbert in attendance--President Obama took the opportunity to chat with HBO Chief Executive Officer Richard Plepler, and asked him for advance copies of the two hit HBO series. It's said Obama was looking to do a bit of marathoning over Presidents Day Weekend. Turns out the President is just like us!
Whatever your political leanings, it's probably a point of pride for the performers on True Detective and Game of Thrones that Obama is so enamored with their shows that he requested advance screeners. But my favorite reaction comes from True Detective's Alexandra Daddario:
It's also totally understandable to envy Obama his power to just get new episodes of True Detective and Game of Thrones this easily. The rest of us have to wait to stream them on our friend/family's HBO Go accounts like suckers! But the president is a busy man, so if this past weekend afforded he and the first lady some time to curl up to the sixth through eighth episodes of True Detective or the season four premiere of Game of Thrones…I'm sorry, I got lost in a cloud of jealously. What was I saying? Oh right, the president knows what all this is about:
And some of this:
But True Detective and Game of Thrones aren't the President's only shows of choice. He's previously revealed that Showtime's terrorism drama Homeland is one of his favorites. And as Netflix unveiled season two of their popular seriesHouse of Cards, President Obama tweeted a call for online decency:
Since you're now ahead of us on two of our favorite shows, let's stick to this guideline, Mr. President.
Staff writer at CinemaBlend.
Your Daily Blend of Entertainment News
Thank you for signing up to CinemaBlend. You will receive a verification email shortly.
There was a problem. Please refresh the page and try again.