Previously On Scandal: 6 Things To Remember Before The Season 4 Premiere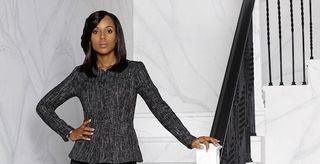 One of the great things about Scandal is that there's no shortage of drama. Of course, the downside to that is trying to keep all of it straight, particularly between seasons. In anticipation of Season 4's premiere this Thursday night, we've prepared this little cheat sheet refresher to remind you of everything that happened at the end of Season 3.
This article obviously contains major spoilers from Season 3 of Scandal. If you somehow stumbled in here not realizing that and aren't caught up through Season 3, turn back now! If you're ready for Season 4 to begin, read on!
Olivia and Jake set off to stand in the sun together.
Olivia finally took her father up on his offer and accepted a free ticket to paradise, wherever that may be. After dealing with her parents' power struggle -- leading to the death of Fitz's teenage son -- Olivia seemed all too willing to leave it all behind. Jake requested to join her in her escape and she consented to let him stand in the sun with her.
Olivia and Jake weren't exactly all hearts and butterflies as they made their departure. Olivia pretty much told Jake that she's in love with another man. But as we saw toward the end of Season 3, there's definitely some chemistry between them, so who knows what the state of their relationship will be when Season 4 picks up.
Fitz and Mellie dealt with major grief.
Fitz found out that his father raped Mellie. Mellie confirmed that Jerry is Fitz's biological son. And then young Jerry's life was taken from him as part of Rowan's plot to regain control of B613. Their devastation over the loss of the their son might unite them, especially with Olivia out of the picture. But Season 3 left off with Fitz on the floor of the oval office, celebrating the victory of a second term by falling apart, leaving Mellie to try to get Olivia on the phone. Ms. Pope wasn't picking up. The "fluffer" has left the building.
Cyrus is kind of a monster. And he knows it.
Cyrus went through a lot in Season 3, including the loss of his husband. Their marriage was strained, to say the least, by the time James was killed off, but that doesn't mean Cyrus wasn't a mess over it. At the end of Season 3, Cyrus had a choice to make. Jake told him that there was a bomb in the church where a senator's funeral was taking place (courtesy of Olivia's mother). Cyrus was supposed to notify the president. But, knowing that Sally Langston was at that church, Cyrus decided not to say anything. At least, not right away. It looked like he was about to tell the president when Jake came in and did it for him, but his hesitance was a clear demonstration that Cyrus was very seriously considering allowing that church to blow up if it meant taking Sally Langston was among the casualties and out of the running for the presidency.
Cyrus faced the reality of the decision he almost made when he admitted what he did to Olivia, who in turn, admitted that the first thing she thought of when she found out Jerry died was that Fitz would win the election.
Quinn and Huck got together but they might already be over.
Quinn and Huck got it on pretty seriously in a parking garage and then at the office next to a puddle of Rowan's blood. Their relationship heated up quickly, but may be fizzling fast. Nothing gets by Charlie. Not long after Quinn and Huck started getting together, Quinn's mentor/boyfriend delivered information to her to pass along to Huck, which revealed the whereabouts of Huck's wife and child. Quinn brought Huck to the house to show him his family, professing her love to him at the same time. Huck later broke down about it to Olivia, deciding that him leaving his family behind is the best thing that ever happened to them. But then at the end of the episode, we see him returning to his wife's house.
Something tells me Charlie was right in knowing that the information would be the end of her relationship with Huck. But we'll have to wait and see where things pick up for Huck and Quinn in Season 4.
Rowan got his way.
Rowan was behind pretty much everything, including the death of Fitz and Mellie's son. And he managed frame Maya for a good portion of it before having her locked up in a prison hole in B613. Rowan not only managed to get Olivia on a plane and headed away from D.C., but he also secured himself his position as leader of B613. Harrison figured it all out after helping Rowan track down Maya. Unfortunately, this realization may cost him his life. The last we saw of Harrison, he was on the receiving end of Rowan's gun. Whether or not he takes the bullet remains to be seen, or at the very least, revealed in some way, presumably.
Rowan may not get the last laugh though...
Before leaving with Olivia, Jake sent boxes of B613 files to David Rosen, along with instructions to take down the bad guys. What will David do with this information? It's entirely possible -- even probable -- that it'll only cause him more trouble. But it should make things very interesting, especially if those files are still in play in some way when Season 4 pick up.
Assistant Managing Editor
Kelly joined CinemaBlend as a freelance TV news writer in 2006 and went on to serve as the site's TV Editor before moving over to other roles on the site. At present, she's an Assistant Managing Editor who spends much of her time brainstorming and editing feature content on the site.
Your Daily Blend of Entertainment News
Thank you for signing up to CinemaBlend. You will receive a verification email shortly.
There was a problem. Please refresh the page and try again.