Private Practice's Agnes Bruckner To Play Anna Nicole Smith in Lifetime Original Movie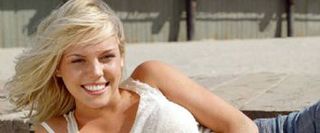 Lifetime plans to take a look at the life of Anna Nicole Smith, whose tenure on earth was cut short after the controversial Playboy model and weight loss spokeswoman suffered a lethal overdose. The Anna Nicole Smith Story could not be produced without a dead ringer for Smith herself, and now Private Practice actress Agnes Bruckner has nabbed the leading role.
Despite Smith's most famous moment probably coming with her overdose, the The Anna Nicole Smith Story will actually focus on Smith as a young woman, when she still preferred the name Vicky Lynn Hogan. The film will then take a look at her rise to fame as a curvy pin-up model. According to Deadline, Smash producers Craig Zadan and Neil Meron are executive producing the Lifetime original movie and John Rice and Joe Batteer are on board to write.
Anna Nicole Smith is probably as fascinating (for the right audience) as she is a tragic figure in pop culture. Sure, her public weight battles and general personality were a little obnoxious, but death always tends to make public opinion grow a little stronger. Besides, Lifetime tends to make the best of any melodramatic tale. If the story is strong, and Bruckner can manage to capture the personality of the singer as much as she can capture the look, The Anna Nicole Smith Story could actually do some decent numbers on the cable network. We still have a while before the film goes into production, but have no fear, TV Blend will keep you posted on any more news about the biopic that wafts our way.
Your Daily Blend of Entertainment News