Quiz: How Well Do You Know Gilmore Girls?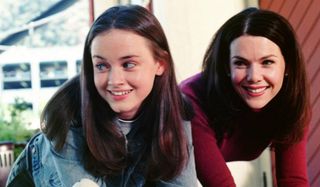 So, you've watched every season of Gilmore Girls twice, and you think you're one of the foremost experts on the series? Well, in celebration of the dramedy coming back on Netflix, why don't you test your knowledge with our quiz below?
To those who finished...
Now, if you missed any questions, just flip through the answer key to see the right answers.
Whose concert did Lorelai and Sookie take Rory, Paris, Madeline and Louise to?
The Bangles
Who did Lorelai's grandmother want Richard to marry?
Pennilynn Lott
How did Lane learn to play the drums?
By practicing at Sophie's Music after school, often in the dark in the store
What is the name of Rory's sister?
Gigi
Which of Rory's suitors mistakenly thought PJ Harvey was a man?
Tristan
How did Luke find out he had a daughter?
When she contacted him after she did a science experiment
What town do Rory and Lorelai live in?
Stars Hollow
Where did Rory and Lorelai live when they first left Hartford?
A potting shed
When did Rory's grandparents find out that she was having sex?
After they made her have dinner with a reverend
What is the name of Kirk's cat?
Kirk
How many children did Sookie and Jackson end up having?
3
Why does Lorelai take Rory on an impromptu trip to Harvard?
She called off her engagement to Max and needed to get out of town
Yennefer's apprentice, Gilmore Girl; will Vulcan nerve pinch pretty much anyone if prompted with cheese...Yes, even Jamie Fraser.
Your Daily Blend of Entertainment News
Thank you for signing up to CinemaBlend. You will receive a verification email shortly.
There was a problem. Please refresh the page and try again.