Rake Review: Greg Kinnear Drama Has Charm, Needs Edge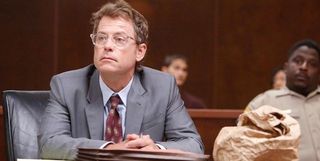 Fox has had a fair amount of success with TV dramas that showcase quirky and imperfect characters. It's with that in mind that Peter Duncan's U.S. adaptation of his own Australian series Rake feels like a good fit for the network. And on paper it is, not only in the way it features a House-like self-destructive but charismatic lead character — who's really not all that much like Gregory House when it comes down to it — but it's also set up with enough of a procedural structure to appeal to those who like shows like House, Bones and other case-of-the-week dramas. Everything about Rake's first episode is fine, with potential for goodness — possibly even greatness — down the line. But it doesn't quite get there in the first episode. Instead, "Serial Killer" feels like a case of TV deja vu, where everything seems a bit too familiar, as though we've seen all of this before in some form or another. And in the process of making the lead character charming and likable, his intrigue and edge is scrubbed away.
Rake stars Greg Kinnear as Keegan Deane, a criminal defense attorney with no shortage of rake-like tendencies — predominantly gambling, womanizing and drinking — who's in the hole for a lot of money and struggling in various aspects of his personal and professional life. Deane's vices are laid out for us in an almost neat row, so it's clear from the start that this guy's life is a mess. "Serial Killer" has him juggling his financial woes, numerous car-related problems and a big legal case that could fix some of his troubles, as he's tasked with representing a serial killer who confessed to a number of murders but might actually be innocent. Tara Summers plays Deane's assistant Leanne, while Miranda Otto plays his ex-wife Maddy. Also among the cast are John Ortiz, Necar Zadegan, Bojana Novakovic and Tara Summers.
Keegan Deane seems like the perfect role for Greg Kinnear. We know the Oscar-nominated actor can play cocky and charismatic as well as he can play sweet and sensitive. Kinnear's proven his worth as an actor time and again in the past, and Rake can and should be a series that makes the most of his talent. The first episode taps into some of what Kinnear has to offer, but doesn't quite give him enough to really rise up and demand our attention and interest. The same applies more or less to the supporting cast and the legal case that's presented, both of which are satisfactory.
One episode is rarely enough to go on when trying to determine if a series is a winner or not. There's no way to know if Rake's first episode is the starting point of a great new series or if this is as good as we should expect from this drama. From its first episode alone, it's likable enough and worth a look, especially if you like Greg Kinnear. Its biggest assets are its star and its format, and "Serial Killer" utilizes both, if not to their potential then just enough to make everything come together as it should for a series' introduction. But if Rake wants to build and maintain its audience, it needs to be better than "likable enough." If it wants to be a successful hour-long drama or dramedy — especially as it's competing against other networks' Thursday night series — it needs to be a little funnier when it's trying to be funny, a little less predictable and a little more original. And it needs more edge, particularly as it relates to its lead, who's set up as an anti-hero but doesn't quite fulfill the terms. For all his vices, there isn't quite enough bite in Kinnear's character. His flaws translate as quirkiness when this show would do well to shine them a bit more honestly, for better or worse. With Rescue Me's Peter Tolan involved -- bringing anti-hero firefighter Tommy Gavin to mind -- we might expect a bit more darkness in Keegan's dark side. It wouldn't hurt. But what there is for this series' first episode is fine enough for now.
Assistant Managing Editor
Kelly joined CinemaBlend as a freelance TV news writer in 2006 and went on to serve as the site's TV Editor before moving over to other roles on the site. At present, she's an Assistant Managing Editor who spends much of her time brainstorming and editing feature content on the site.
Your Daily Blend of Entertainment News
Thank you for signing up to CinemaBlend. You will receive a verification email shortly.
There was a problem. Please refresh the page and try again.