Rambo May Become A TV Series, Get The Details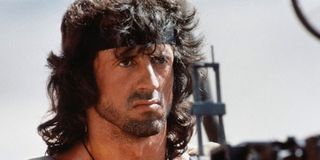 The appearance of brand new shows based on famous film projects seems to be neverending. Shows like Limitless, Ash vs. Evil Dead and Minority Report have already hit the airwaves (to varying degrees of success), and this morning we learned that an iconic film character may get his very own TV show. Sylvester Stallone is involved, and he's very keen to bring Rambo to life on the small screen.
So, how would a potential Rambo series work? The news this morning says that Stallone is working on a one-hour drama that would basically be Rambo-centric, but with a twist. It would be called Rambo: New Blood, and the new project would nod at the original films, but would focus on Rambo alongside his son J.R. J.R. was formerly a Navy Seal, which would also play into the plot in some way. For those who are familiar with the Rambo films, Rambo himself was a former U.S. Army Special Forces participant who ends up actually traveling back to both Vietnam and Thailand in the second and third films.
According to Deadline, Fox has already decided the idea has enough merit to order a script. Jeb Stuart is on board to write and executive produce the project. Stallone is also executive producing, but word is still out on whether he would actually reprise the iconic role or not, although I'm assuming the answer would be a big fat no, as he didn't express interest the last time this sort of project was pitched. There has been some interest expressed in having Ryan Gosling take on the iconic role, however, and he seems pretty interested, although the TV aspect might change that.
We're still in the early phases of this TV project moving forward, but the really interesting question is how the show would tackle the rampant violence the Rambo movies are known for. Network TV would likely have to dull down the action a whole lot, as the Rambo movies are R-rated for "bloody violence," "language" and more.
This isn't the first time we've heard of a Rambo TV series. A couple of years ago, a similar project was in development, with Stallone attached. Obviously, the actor is less busy now that the fourth Expendables movie hasn't moved forward yet and is still in the rumor phase. Still, the last time this project came together, he wasn't involved, so I'm guessing this will be more of a Notebook sort-of remake than a Wet Hot American Summer TV revival, in terms of casts. Then again, there was that time that Sylvester Stallone said he was training to play the character again…
There are a ton of reboots, remakes and revivals in the works right now, and some of them are obviously never going to move forward to series. (Or will move forward like Rush Hour but will be kept off of the schedule). I have no idea where Rambo: New Blood will end up falling, but considering this project didn't move forward last time, I don't have super high hopes.
Amazing Race & Top Chef superfan with a pinch of Disney fairy dust thrown in. If you've created a rom-com I've probably watched it.
Your Daily Blend of Entertainment News
Thank you for signing up to CinemaBlend. You will receive a verification email shortly.
There was a problem. Please refresh the page and try again.