Minority Report Episode Order Cut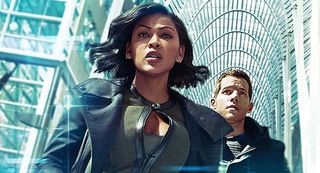 In the early going of any new TV season, there are going to be those shows that immediately connect with audiences, like Blindspot, which was already given a full season order by NBC, and those that struggle to find footing with viewers. One of the latter is Fox's sci-fi series Minority Report, a show that just got its order cut, and it only took three episodes.
According to TV Line, Fox gave Minority Report a bit of a Season 1 haircut, cutting their original order—which was for 13 episodes—by three, down to 10. This comes on the heels of another disappointing ratings haul, where the most recent episode drew just 2.3 million viewers this past Monday. This represents a substantial drop from ratings that have never been particularly strong since its debut a few short weeks ago.
The outlet's source says that Episode 10 "will serves as a satisfying conclusion to the season," (possibly the series?) and says that there are no plans at the moment to move the show from its current slot, right after Gotham. Still, while they aren't pulling the plug just yet, this does not bode well for the future of the series and Minority Report could very well join the long list of sci-fi shows that Fox has cancelled early into their runs, a list that notably includes cult favorite Firefly and the gone-too-soon Almost Human.
The series follows the events of Steven Spielberg's 2002 film of the same name, itself an adaptation of a 1956 Philip K. Dick short story. Set in Washington DC in 2065, eleven years after the Tom Cruise-starring film, the main narrative revolves around Dash (Stark Sands), one of the three Precogs who, together with his brother and their adopted sister, used their unique abilities to see into the future to prevent crimes before they happened. Though the Pre Crime program was cancelled, Dash still gets glimpses of future events (though only partial), and he tries to put his gifts to use by helping Detective Lara Vega (Meagan Good). He does all of this while attempting to fit into normal society, which, as you can imagine, is difficult when you're haunted by visions of things that haven't happened yet.
In addition to the lackluster ratings, Minority Report hasn't exactly been a critical darling either. Many reviews have criticized the series for a lack of imagination, being a dull spinoff, and for failing to even come close to the admittedly high bar established by the film. Then again, that may be an unfair comparison as the movie had one of the biggest movie stars in the world and perhaps the most acclaimed director of all time.
Hopefully Minority Report will be able to find a groove and rhythm over the next seven episodes, do something to distinguish itself, and avoid winding up on the scrap heap.
Your Daily Blend of Entertainment News
Thank you for signing up to CinemaBlend. You will receive a verification email shortly.
There was a problem. Please refresh the page and try again.