The Full Wet Hot American Summer Trailer Is Here And Full Of Famous Faces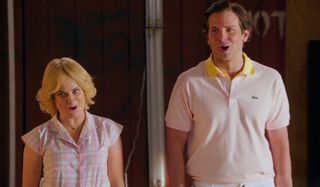 We've been waiting to see actual footage for Netflix's upcoming Wet Hot American Summer series for months. The cult David Wain flick is being made into a TV series and we've known for a while now that a slew of big names would be involved, including a whole bunch of brand new faces. But knowing something and seeing something is totally different. You can give the first full-length Wet Hot American Summer trailer a watch, below.
So far, Netflix hasn't divulged a ton of details about Wet Hot American Summer: First Day of Camp, but the trailer helps us to see what we can expect. First and foremost, the camp kids are back, and they are all a LOT older. Early on H. John Benjamin's character warns off the kids, telling them there will absolutely, under no circumstances be any sexual activity with the counselors. Obviously, shenanigans are likely to ensue. The rest of the trailer is filled with ridiculous jokes and reintroductions to our favorite cast of characters, including Andy (Paul Rudd), who crashes a motorcycle when he shows up to camp.
Elsewhere, Susie (Amy Poehler) and Ben (Bradley Cooper) seem up to their usual camp counselor shenanigans, putting on performances and more. Ben is still spending an awful lot of time with McKinley (Michael Ian Black), and sometimes shiny costumes are involved.
And there seems to be some ridiculous subplot with camp cook Gene (Christopher Meloni) and some skills he picked up when he was signed on with the US armed forces. At some point, Jon Hamm's Falcon character will enter the picture, and it looks like we are in for a good old fashioned fight scene.
Seriously, the list of famous people involved with Netflix's upcoming series is insane. It includes all of the original cast members like Janeane Garafalo, Paul Rudd, Marguerite Moreau, Christopher Meloni, Ken Marino, Amy Poehler, Bradley Cooper, Michael Ian Black, Judah Friedlander, David Hyde Pierce, Elizabeth Banks and so many more we'd probably strain your eyes if we typed them all. Plus, a ton of newbies decided to get involved with the new episodes, including Jordan Peele, Jon Hamm, Kristen Wiig, Jason Schwartzman and plenty of others. Here's a poster featuring the cast, to give you an idea of the number of people involved.
The show accommodated a ton of actor's schedules to get them on board for the Netflix series, and it sounds like it is going to be great. With a little luck, maybe it will be the sort of project that makes a cult classic a little more mainstream.
Wet Hot American Summer is set to premiere on Netflix on July 31, which is much earlier than expected, but fitting for a show that is about summer camp. For now, you can watch the original movie on Netflix (opens in new tab), and check out what the streaming service has coming up in 2015, here.
Your Daily Blend of Entertainment News
Reality TV fan with a pinch of Disney fairy dust thrown in. Theme park junkie. If you've created a rom-com I've probably watched it.