Ray Donovan Is Showtime's Biggest Series Premiere Ever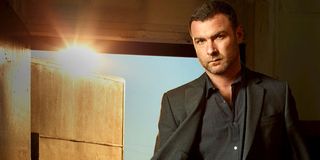 Ray Donovan may not yet be a household name like Dexter or Homeland's Carrie Mathison, but he's well on his way to being one of the most famous names in the Showtime stable. The new drama series, fronted by Liev Schreiber and Jon Voight, debuted last night to massive ratings-- according to Variety it's the biggest premiere for any Showtime series ever, with 1.35 million audience tuning in. Add in the people who caught the show in preview "samples" and those who tuned in for the re-run late last night, more than 3 million people have watched Ray Donovan already.
Its numbers were still eclipsed, naturally, by the season premiere of Dexter, which brought in 3.2 million people overall to catch the start of its eighth and final season. If you weren't one of those 3.2 million, it's not too late-- you can watch the full episode here and discuss it, or look ahead to our review of the episode's first few seasons. Here's a bit of what Kelly had to say about it-- she thinks this new season has the potential to live up to Dexter's glory days:
As for Ray Donovan, Jesse wasn't quite as wild about it in his review of the premiere episode, which he said suffered from a serious lack of subtlety. Then again, on a network that still reveals in the many antics of Shameless and House of Lies, that's not necessarily a bad thing. You can also watch the show's full premiere episode here, and for a look at what's ahead in the season to come, check out the intense extended trailer below.
Your Daily Blend of Entertainment News
Staff Writer at CinemaBlend