Ray Donovan Review: Fixer Drama Suffers From Showtime's Signature Lack Of Subtlety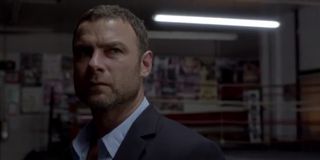 "You think you're the first person I've dealt with who woke up in bed with a dead body?"
Of the several new series debuting this summer, Ray Donovan looked among (if not) the most promising. Then again, the same could have been - and likely was - said about House of Lies, Showtime's big premiere the previous year, and the racy dramedy turned out to be a huge disappointment. Sure, its renewals may suggest otherwise but that's not always the best barometer for quality. Perhaps the success of that series, not to mention the network's propensity to produce shows 'turned up to 11,' should have served as a warning sign that Ray Donovan would likely also lack any hint of subtlety, however, the stellar talent behind the crime drama had me holding out hope for an outlier similar to the first season of Homeland. Nope. As many other reviews have probably said by now, the new series needs to call in a fixer.
Created by Southland showrunner Ann Biderman, Ray Donovan is about a 'fixer' solving the seedy problems of Hollywood's rich and famous. For those who haven't seen Michael Clayton (first, you should), a fixer is someone who's paid to clean up whatever mess his wealthy clients may have gotten themselves into and ensure that no details make their way into the press. Unless, of course, they are the details that you wanted leaked. It's all explained quite well in the first quarter of the episode as we watch Ray (Liev Schreiber) go to work on what must be the most cliched situation imaginable for this scenario. Like we all haven't dealt with someone who woke up next to a dead body. On-screen, of course. Unfortunately the situations and characters don't get any less stock than that as the pilot progresses but at least they are handled almost as over the top as possible.
Again, I think it's a symptom of Showtime's development process where I imagine the voice-box from Dude, Where's My Car? constantly asking "and then?" during every pitch. One of the things that made Michael Clayton so interesting was the juxtaposition between his family life and his job, mostly how the despicable nature of the latter was keeping him from finding happiness in the former. His brother's perfect family was a symbol of what he could be had he not gone down the wrong path and also made everything he fixed seem even more interesting. Ray Donovan, on the other hand, seems to be trying to outdo the craziness of his job with an even crazier home life which only serves to undermine the effect of both. When the show is always at 11, it's hard to engage emotionally. The television equivalent of a blockbuster. All spectacle. And this attitude pervades not just the storytelling and characterization but also seeps into many of the performances.
Jon Voight hasn't been very good in years but his Mickey Donovan is still one of the worst in recent memory. The man hasn't met an accent he didn't like. Or could do. And Elliot Gould, the other living legend in the cast, is similarly cartoonish. I'm also usually a big fan of both Eddie Marsan and Dash Mihok but their characters (Donovan brothers, Teddy and Bunchy) are exactly what I'm talking about with the 'and then' amplification of every aspect of the show. Bunchy has a history worthy of three series of his own. On the bright side, Liev Scheiber as Ray is fantastic as always as is Paula Malcolmson (Deadwood) as his wife Abby. Somehow the pair are able to rise way above the material and every second they share the screen is incredibly watchable. Oh, and Ambyr Childers is mesmerizingly beautiful, which might be enough to pull off her part. Finally, Katherine Moennig (The L Word) plays Ray's lesbian colleague Lena and the economy and skill with which they handled her introduction is another (albeit brief) bit of the pilot that gives me hope the series will improve with time.
A lot of my complaints and criticisms might simply be a the result of a pilot episode simply trying to do too much, which is certainly not out of the ordinary as many series struggle to find their footing. And for all the bad-mouthing I just did, Ray Donovan does at least show glimpses of greatness and potential for improvement. The show looks great (the blues of Boston versus the bright lights of Hollywood), moves fast and features a fantastic leading man and woman (Schreiber and Malcolmson), Biderman and company just need to find a way to tone down the delivery. It's weird to tell a series to scale back on the drama but Showtime needs to take a cue from some of HBO's most critically acclaimed shows (whether it's The Sopranos, The Wire or even Boardwalk Empire) and be brave enough to do less. Or at least less all at once. For all its initial faults, at least Ray Donovan will have me tuning in to see if the Showtime series can be fi... improved.
"Don't let the wolf in the gate..."
Ray Donovan premieres tonight at 10 p.m. ET on Showtime. Or watch it HERE. Created by Ann Biderman, the series stars Liev Schreiber, Paula Malcomson, Jon Voight, Elliot Gould, Eddie Marsan, Katherine Moennig, Dash Mihok and James Woods.
Your Daily Blend of Entertainment News