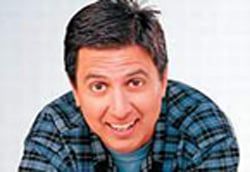 Did you love Raymond? I didn't. Only watched the show twice. Even though the powers that be would lead us to believe that Everyone loved him, I just didn't love the show. It's not that I disliked Ray, I just couldn't stand the laugh track, the grating voice of Ray's mother, and the fact that his dad reminded me of a childhood friend's dad (he was a bit creepy…) I guess someone loved the show, though, because it lasted a long time by TV standards.
Whether you were a fan of the show, or a fan of Ray, you may be surprised to find out that he is coming back to the tube. Hollywood Reporter is reporting that Ray and Everybody Loves Raymond's writer-producer Mike Royce are joining forces to create a new drama that has been picked up by TNT.
According to the article, "Romano will play Joe, a friendly, slightly neurotic, divorced father of two who had dreams of being a pro golfer but instead owns and runs a party store. His two best friends are Owen, an overstressed black husband and father who is a car salesman at his dad's dealership, and Terry, an offbeat, handsome, intelligent and still struggling-to-make it actor."
Hmmm…friendly, neurotic…that doesn't sound like Ray Romano at all! Does the guy ever play someone that isn't just like him? He is funny on occasion, but isn't an actor supposed to act? Whose idea was it to inundate our airwaves with comedians? In the tradition of Tim Allen, George Lopez, Bill Engvall, and Jeff Foxworthy, I am sure this show will be funny on only the level that middle America can enjoy…
Your Daily Blend of Entertainment News
Thank you for signing up to CinemaBlend. You will receive a verification email shortly.
There was a problem. Please refresh the page and try again.