Real Time With Bill Maher Scores Big Renewal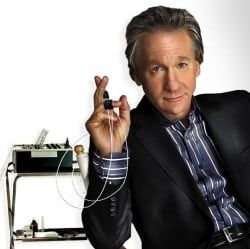 HBO really likes Bill Maher. Sure, they could have just offered him a renewal for his popular Real Time with Bill Maherseries, but that wasn't enough. Instead, they're upgrading the show to a near year-round schedule by offering a 35-episode ninth season.
Starting in January, that should keep the show on the air through November, including scheduled breaks and holiday weeks. Nancy Geller, senior vice president of HBO Entertainment, has worked with Maher since Politically Incorrect, and has been pushing for him to get a more expansive commitment from the network, according to The Hollywood Reporter.
I've always seen Maher's show as something akin to Comedy Central's The Daily Show and The Colbert Report. With those shows on throughout the year, they have the opportunity to react to what's going on in the political world, and throughout the news, almost as it's happening. Maher is just as topical and timely on Real Time, but hasn't had that expansive opportunity to really punch it home with all the hot issues and stories.
With this new opportunity, Maher might start to really make an even bigger name for himself as a comedian/commentator. The bigger season is part of a larger two-year deal with Maher that includes a new one-hour stand-up project, as well as another project he's got simmering.
Your Daily Blend of Entertainment News
Your Daily Blend of Entertainment News
Thank you for signing up to CinemaBlend. You will receive a verification email shortly.
There was a problem. Please refresh the page and try again.