Rescue Me Season 7 Review: Preparing To Say Farewell To FX's Explosive Drama Series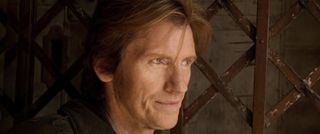 FX's emotional roller coaster of a drama series Rescue Me returns for its seventh and final season this week. Rescue Me is a series of laughter, tears, tragedies, triumphs, disasters and emotional outbursts. Season 7 offers all of these things to its devoted fans in this final chapter.
Rescue Me is a drama series that follows firefighter Tommy Gavin (Denis Leary), a 9/11 first responder who lives with the loss and the scars from the day that rocked New York City to its core. Tommy Gavin is both a hero and a villain to his own life and the story told in this gritty drama series. A sometimes-recovering/sometimes-practicing alcoholic, Tommy's life is often in disarray to varying degrees as he attempts to find some balance with the people he loves, many of whom are as much catalysts to his issues as they are victims. Understanding Gavin as a man is a big part of what the series is about and Season 7 is no exception there.
When Season 6 ended, Tommy was trying to balance being present for his family, including sponsoring his daughter Colleen (Natalie Distler) at Alcoholics Anonymous and repairing the damage to his marriage with Janet (Andrea Roth), with being there for his deceased cousin's widow Sheila (Callie Thorne), whose son Damian is now confined to a wheelchair, having suffered injuries and brain damage while fighting fire at Tommy's side. In Season 7, the dynamic of the situation has changed drastically for Tommy.
Sheila, who shared a romantic/sexual relationship with Tommy for years, has now formed an unlikely friendship with Janet, who is pregnant and preparing herself for motherhood once again. On one hand, their friendship condenses Tommy's responsibilities somewhat, but on the other hand, these two women joining forces is almost like two storms merging into one big, complicated tornado in Tommy's life. Sheila and Janet have both endured their fair share of heartache and loss, and both of their relationships with Tommy are unique, complex and explosive in their own way. This new arrangement brings that to light in a way that's both amusing and intriguing. Andrea Roth and Callie Thorne continue to deliver excellent performances in their respective emotional, often unpredictable roles.
While Tommy continues to address his domestic issues at home, at work there are just as many issues, including health problems for Lou (John Scurti) and some major tension between Tommy and Franco (Daniel Sunjata). Things aren't all serious though. While Lou's heart problems are definitely a serious matter, there's a great episode that follows how the guys manage to get him through his health physical. And fans of Sean (Steven Pasquale) and more specifically, his love life, will appreciate the story arc that involves him and a woman who could be the one. Of course, there's a catch and it could be a deal breaker.
Maura Tierney returns to her role as Kelly in more than one episode. Just as Tierney was battling cancer in real life, her character Kelly is currently undergoing treatment for breast cancer when she runs into Tommy. Kelly's outlook on life and the things she's been through continues to offer fresh perspective on Tommy's life, just as it did back when she was first introduced in the show. I've always thought of Tierney as one of the more fearless female actresses out there and that fearlessness comes through beautifully once again, particularly in an outstanding performance in one of the most emotional scenes of the season.
On the subject of outstanding performances, I need to admit that I don't think I've ever fully appreciated what John Scurti has brought to this show in his role as Lou. Often used for comic relief and the occasional fat-joke, Lou's love of food and willingness to be sort of a sidekick to Tommy in the firehouse may have overshadowed the true foundation of the friendship he has with Tommy and the importance of their relationship in the show. Lou is a big part of the heart of the series, which is a little ironic, considering his heart troubles. This is demonstrated beautifully in a conversation later on in the season, between Lou and Sheila and then humorously between Lou and Janet. You may have seen part of the scenes I'm referring to in the promos for Season 7.
As 9/11's tenth anniversary approaches, and the day plays such a large role in the foundation of the story, the subject is addressed in the season, both in the firehouse and from Tommy's perspective as a survivor and as someone who's lost friends and a cousin to the terrorist attack.
There are a number of intense moments throughout the season, including one particular fire scene that will have you on the edge of your seat. This is the last season and Rescue Me is already a series with a body count. Given the nature of the work Tommy Gavin and his colleagues do, anything can happen and it's entirely possible that not all of these guys will make it out of the show alive. Tension is running high, but in the grand tradition of Rescue Me, it's cut nicely with humor and the sense that beneath all of the drama, these characters really are family.
I haven't seen the last two episodes of the season yet and for that, I'm kind of grateful. While I'm eager to see how the whole thing plays out, I like that I have just a little bit more to look forward to before the show ends for good. Rescue Me has had its ups and downs, just as Tommy Gavin has, but Season 7 delivers the goods. If you've been watching from the beginning and you've invested the time to get to know these characters, I think you'll be pleased with what we're being offered in this final installment.
I'd like to close this out with a thank you to Rescue Me creators Denis Leary and Peter Tolan for contributing to television with this gritty, funny, and powerful drama series. It hasn't always been easy to follow Tommy Gavin into the fire, (especially when he's the one who's started so many of them) but the ride has certainly been worth the occasional burn.
Rescue Me Season 7 premieres Wednesday, July 13th at 10:00 p.m. ET on FX.
Assistant Managing Editor
Kelly joined CinemaBlend as a freelance TV news writer in 2006 and went on to serve as the site's TV Editor before moving over to other roles on the site. At present, she's an Assistant Managing Editor who spends much of her time brainstorming and editing feature content on the site.
Your Daily Blend of Entertainment News
Thank you for signing up to CinemaBlend. You will receive a verification email shortly.
There was a problem. Please refresh the page and try again.