Revenge Watch: Episode 11 - Duress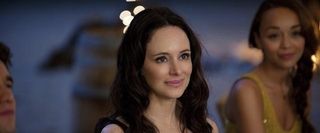 Oh, sweet Revenge, how I've missed you! Tonight's episode made up for the weeks we had to wait, and then some. What did "Duress" have to offer? Suspense, drama, a few intense moments and a great little twist reminiscent of earlier episodes this season to top it all off.
Whenever an episode does a "two days earlier" following a suspenseful scene, I think of Alias, as this approach was used in some of the series' best episodes, including the pilot. Revenge has been using a much more stretched out version of this strategy all season, showing us the approaching engagement party that will include a possibly fatal shooting. And tonight, it was used on a smaller scale as Tyler held a gun to Emily's head at Daniel's birthday party. With Alias already on my mind, I found it particularly exciting to see that Conrad Grayson's attorney was played by none other than Merrin Dungey, who played Francie in Alias, way back when.
While we're on the subject of random things that made me smile during tonight's episode, loved the closing scenes with the cover of Metallica's "Nothing Else Matters." Unfortunately, Shazam failed to tell me who was singing it, so if you know, feel free to share it with the rest of us in the comment section below!
Truth or Die
Since his arrival, Tyler's presence in the Hamptons has been something of a thorn (no pun intended) in Emily's side. She didn't seem to see him coming and we've seen a lot of improvisation on her part to handle his scheming and the problems he's caused for the Graysons, which has caused problems with her trying to cause problems with the Graysons. Tonight, Emily managed to hand Tyler an unloaded gun and watch him use it to shoot himself in the foot.
It's been a while since Emily took someone down. She's spent so much time dealing with the Amanda's return, Frank's unplanned death and Tyler, that working on her own plans of revenge took a back burner. This worked out nicely, in a way, because it made the end of the episode far less predictable. The whole time, it seemed like Tyler was in control. After all, he spent most of the episode lurking in people's homes or offices, waiting for them to show up and then surprising them dramatically. He did that three times tonight, all to great effect. But in the end, he played right into Emily's hands without even knowing it.
Granted, she took a lot of chances, and it's still a miracle no one got hurt, especially considering he could have killed Nolan instead of just cutting him and tying him up. I'm going on the understanding that what happened at the party was more of a Plan B to Tyler actually leaving the Hamptons as he claimed to be doing (and as Nolan confirmed he was doing). The gun was planted and unloaded. Frank's wallet was kept handy. Tyler's brother was on his way to the East Coast. And Emily had a prepared mean-girl speech rehearsed if and when Tyler showed up. When he did, it was just a matter of pulling the trigger.
It wasn't revealed until Tyler was hauled off in handcuffs that the gun she'd put in the desk drawer (which Tyler witnessed) was intentionally unloaded. Emily confessed this quietly to Nolan, which I think is a mark of her willingness to trust him again. That's a good thing too, considering he noticed how still she'd been when Tyler was about to shoot her, making no move to defend herself with her ninja-abilities, and he knew she always kept the gun loaded. Had she tried to claim all of this was just luck, he wouldn't have believed her anyway. Nolan's too smart for that and Emily was smart to acknowledge that. All the same, Nolan seemed a little bit shaken by Emily's craftiness.
Apologies
Since we're on the subject of Nolan, I'm happy he and Emily seem to be back in each other's good graces. As I mentioned above, I think he's a little bit wary of her now, not only because of how she handled Tyler, but also because of the fight they had. They did apologize to one another, but that was before Tyler pulled a knife on Nolan and cut his arm. Nolan's fear at being held at knife point by Tyler didn't seem to be an act at all and while he didn't say anything about it, I have to wonder if he won't harbor some anger toward Emily for allowing that to happen, or at the very least, not keeping him in the loop.
Pre-Nup
In news unrelated to the most dramatic birthday party in recent TV history, Victoria and Conrad's divorce battle has drifted into especially soapy territory, complete with pre-nup drama that includes a fake-pregnancy and fake-miscarriage. Apparently, being pregnant when signing a prenuptial agreement qualifies as "duress," which voids the contract. Of course, Victoria wasn't actually pregnant when she married Conrad, though it doesn't come as a huge surprise to me that she'd go that route to securing an engagement ring and a very wealthy husband.
She admitted to Huntley that she lied about the pregnancy and miscarriage, and he responded by finding a doctor that would back up her claims in order to ensure she's swimming in money when the divorce is through.
Amanda
On the Faux-manda front, Amanda and Victoria were face to face at the party tonight, but from the flashback we saw, this might have been their first actual meeting (or so Victoria thinks). Victoria flashed back to a conversation on the beach with David, where he told her he wanted to introduce her to Amanda, but that may not have been that long before he was hauled away in handcuffs, which means the two never actually met. Either that or there are more flashbacks related to that coming. We'll have to wait and see.
Meanwhile, we know that Emily set it up that Amanda and Victoria would meet at the party. I'm pretty sure this is all part of a plan to point one enemy at the other, but does that involve Amanda asking questions about David Clarke? When Tyler was pointing his gun at Conrad, one of the things he referred to was whatever was on the video camera that revealed Conrad's involvement in David Clarke's arrest and conviction. This got Amanda's attention and now she's asking questions about it. Why? How much does she know about Emily (real Amanda)'s father? If she doesn't know the truth, why ask Jack? Why not go straight to Emily? And if she does know the truth, was she just pretending to be curious since she's pretending to be David's daughter?
Other tidbits
The book appears to be closed on Frank's death. Emily slipped his wallet into Tyler's pocket, so it seems he'll be framed for murder, which might be kind of hypocritical of Emily when you really think about it, given what happened to her father. Then again, she doesn't seem to be especially particular with whose eye she's taking in her eye-for-an-eye (for an eye, for an eye...) approach to handling other people's wrong-doing, and keeping her path clear to move forward. Perhaps his intent to kill her warrants being framed for murder in Emily's book of vengeance. Had he not pulled the gun on her, the wallet in his pocket wouldn't have mattered... probably. (Or I'm just making excuses for her).
Emily and Daniel seem to be even more in love, which includes poetry and the photo-book Emily presented him with for his birthday (an idea Victoria totally ripped off with her own bigger scrapbook gift).
Has Emily figured out that Ashley doesn't like her? The two shared a tense moment tonight when Emily pointed out that Ashley had been dating Dr. Jekyl and Mr. Hyde. I'm wondering if she was testing the waters there to see how her "friend" would react. If so, it seemed clear by the way Ashley tensely commented on empathy that she's barely able to hide her contempt for Emily.
Sound off...
The episode was full of soapy moments, so I won't pick just one. Instead, despite how much I loved "Duress," I'm ending this with a nitpick/question. Did anyone else notice the audio sounded off during the phone conversation between Emily and Nolan when Emily was digging through Tyler's things? Just after she found the camera, Nolan spotted Tyler coming and then the tone of his voice didn't seem to match the earlier sound. He said, "Hit the road babe, Tyler's 30 meters out," but I swear it looked like his lips said something else. Anyone else catch that? Just a bit of awkward dubbing (or a glitch on my TV's end), I'm guessing. Anyway, I'll forgive it in exchange for any of the uneaten food in tonight's episode, including the bagels and fruit on the Grayson's table when Victoria and Huntley were meeting, and of course, Daniel's birthday cake.
Your Daily Blend of Entertainment News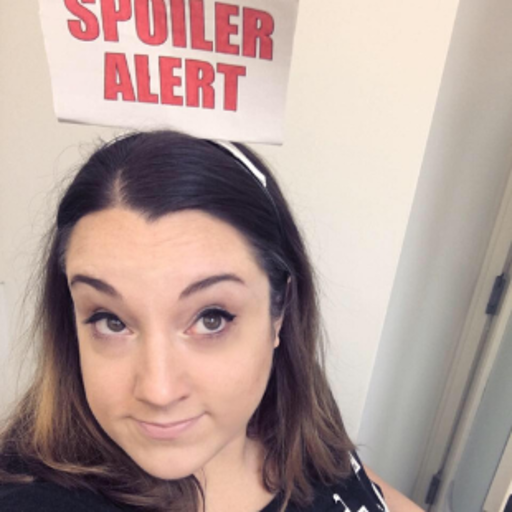 Assistant Managing Editor
Kelly joined CinemaBlend as a freelance TV news writer in 2006 and went on to serve as the site's TV Editor before moving over to other roles on the site. At present, she's an Assistant Managing Editor who spends much of her time brainstorming and editing feature content on the site.