Rob Schneider Pilot Gets A Mulligan At CBS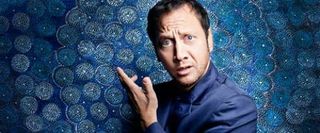 Rob Schneider is a stapler. Wait. Not really. Rob Schneider is a carrot! Hold on... Sorry, I just can't seem to get the South Park Schneider jokes out of my mind. In all seriousness, Rob Schneider may soon have much more to do than be the perennial Adam Sandler cameo-er, as he's probably getting a new TV show.
I say probably because CBS, according to Deadline, has put in an order for a pilot redo as well as an unspecified number of additional scripts. Deadline also notes that the "multi-camera comedy, which Schneider co-wrote with Lew Morton based on the actor's real-life experience, stars Schneider as a confirmed bachelor who has just married into a tight-knit Mexican-American family."
The pilot apparently tested rather well and CBS is sold on the concept but they wanted a redo to 'tweak' a few things. The redo and script order is pretty positive information as this isn't a new practice for the network whose hit comedy, The Big Bang Theory, had to undergo the same process with great results.
Look for the Rob Schneider series to air sometime this winter... that is, if all goes well for the stapler and his new pilot.
Your Daily Blend of Entertainment News
Thank you for signing up to CinemaBlend. You will receive a verification email shortly.
There was a problem. Please refresh the page and try again.