Rob Schneider Wrote, Directed, Starred In And Paid For New Sitcom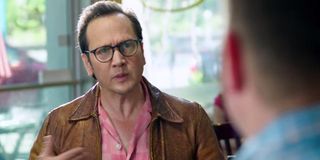 Other than a few guest appearances on shows like Hot in Cleveland and Inside Amy Schumer, Rob Schneider has not been a major part of the TV landscape since his series Rob was cancelled back in 2012. Now, however, the former Saturday Night Live actor is writing, directing, starring in and paying for a brand new sitcom. This time around, he's calling the show Real Rob.
The new series will follow Schneider as an entertainer and family man and sounds pretty similar to his own life. In Real Rob, he'll be the father of a toddler and the husband of a Mexican woman who also happens to be a television producer. Schneider's real-life wife, Patricia Azarcoya, co-wrote the eight-episode series. She herself is a younger woman who produces TV programs as a career.
But Real Rob doesn't simply have similarities to Schneider's personal life. It's actually pretty similar to Rob, a sitcom that ran on CBS back in 2012. That show followed Rob Schneider as a dude who elopes with a Mexican-American woman, only to return home and face her displeased parents. Cheech Marin co-starred in the series as the father of the bride, but despite the talent of the two funny men, the show was not all that funny. Unsurprisingly, it was cancelled quickly by the eye network, as well.
Despite this, Schneider clearly still believes in the premise. In fact, he's going so far as to finance Real Rob, which will be shopped to international buyers at the MipTV conference in Cannes, according to Variety. There's a phrase out there about insanity being the equivalent of doing things the same way and expecting different results, but Schneider has already gone out of the way to finance the new show, so now the only thing that is left to do is sell the project. Admittedly, Real Rob is missing the laugh track and the joke-joke-joke format that are the hallmarks of CBS sitcoms. And—bonus!—it also features Spanish subtitles.
Schneider is also shooting for an international audience, so potentially there will be a bigger fanbase for the comedian elsewhere.
In the end, a self-financed TV program is a gamble, but one the actor felt was worth taking. Although Schneider has popped up in plenty of Adam Sandler films over the years and is probably most known for starring in the Deuce Bigalow movies, over the last several years his biggest project has most certainly been Rob. If he thinks he can make a similar sitcom work for a different audience, I'd argue that's better than doing voice work for the likes of Wings: Sky Force Heroes and Jungle Shuffle. If Real Rob does get picked up, Season 1 even features a few famous guest stars, including George Lopez, David Spade and Norm Macdonald.
We'll let you know whether or not Rob Schneider's latest ends up finding a home.
Reality TV fan with a pinch of Disney fairy dust thrown in. Theme park junkie. If you've created a rom-com I've probably watched it.
Your Daily Blend of Entertainment News
Thank you for signing up to CinemaBlend. You will receive a verification email shortly.
There was a problem. Please refresh the page and try again.