Robert Carlyle Cast In Lead For Stargate Universe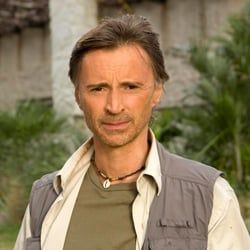 Stargate fans, all one bazillion of you hiding in the shadows, have been waiting eagerly to hear what's going to happen with the franchise. You just knew Sci Fi wouldn't drop some of its most popular original programming for reality fair like Cha$e. Today Sci Fi announced that Robert Carlyle (Trainspotting) has been cast in the leading role of Dr. David Rush in Stargate Universe.
SU, not to be confused with our local college sports teams The Orange, is a younger and edgier version of the previous series'. I'm not sure what that means, but according to a release today the show will follow Dr. Rush as he leads a group of soldiers, scientists, and civilians in a battle for survival when they emerge from an ancient ship in the outer limits of space. The group must unlock the mysteries of the ship in order to make it home, but Dr. Rush may have ulterior motives.
"We couldn't be more excited to set Robert Carlyle for Stargate Universe," said Mark Stern, Executive Vice President, Original Programming for Sci Fi in a statement today. "He brings a depth, intelligence, and complexity to his roles, which will fit perfectly with the fresh, new reinvention of this franchise."
Carlyle was most recently seen by television viewers in the 24: Redemption movie that sets up the next season of Fox's hit show. Production for Stargate Universe begins in February, with a hopeful premiere during the summer of 2009.
Your Daily Blend of Entertainment News
Staff Writer at CinemaBlend.
Your Daily Blend of Entertainment News
Thank you for signing up to CinemaBlend. You will receive a verification email shortly.
There was a problem. Please refresh the page and try again.