Rome's Indira Varma Signed On For Season 4 Of Game Of Thrones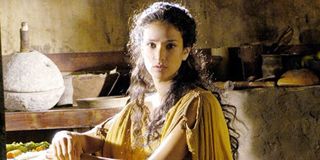 Game of Thrones has officially signed on another Season 4 character. Just a few weeks after we learned that Oberyn Martell will be a big part of the new season's plot, we learned his paramour, the eye-catching Ellaria Sand, will also be a big part of the series, and will be played by Rome actress Indira Varma.
The adventurous Ellaria Sand doesn't play a huge role in George R.R. Martin's novels, but she is important to the plot, thanks to her relationship with Oberyn Martell. If you've read the novels but need a refresher on Sand's character, it's understandable, since I constantly have trouble remembering who's who in Dorne. Luckily, the Internet is chock full of these spoiler-filled reminders. If you mostly want to avoid spoilers, what you really need to know is that Sand and Martell have been lovers for many years and have even produced children together. Sand's partner is also known as "The Red Viper," a dangerous man who isn't a big fan of the Baratheons or the Lannisters. In Season 4, Martell will be played by Red Widow actor Pedro Pascal.
I would love to get into the details of what we can expect from the lovebirds in Season 4, but there are plenty of other places on the Internet where fans can do that, and I'm trying to keep this article spoiler-free concerning major plot points. Instead, we can talk about how the Game of Thrones cast is getting more interconnected, with EW noting that Indira Varma is the second character formerly appearing in Rome that has become a part of the Game of Thrones cast. Last season, Ciaran Hinds signed on to play Mance Rayder, a role he should be reprising in Season 4, as well. The double Rome casting may seem strange, until we remember that Rome also aired on HBO. Additionally, Game of Thrones casts so many new characters each season, it makes sense that there would be overlap at some point.
Speaking of casting, so far the big names that have been added have been Varma and Pascal. Additionally, "Blackwater" episode director Neil Marshall is set to direct the Season 4 finale. There should be plenty of new castings coming up over the next few months, and we'll keep you posted every step of the way. Until then, don't be afraid to catch our live blog from this year's Comic-Con panel and look into the thoughts of the actors involved as well as the deaths of some of the show's most beloved characters.
Reality TV fan with a pinch of Disney fairy dust thrown in. Theme park junkie. If you've created a rom-com I've probably watched it.
Your Daily Blend of Entertainment News
Thank you for signing up to CinemaBlend. You will receive a verification email shortly.
There was a problem. Please refresh the page and try again.