Rosie O'Donnell Working Toward A Return To Daytime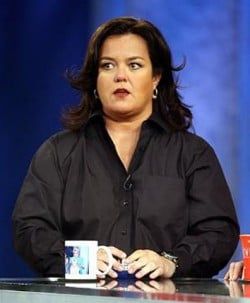 There is no one like Oprah Winfrey. But in the history of daytime television, there is another personality who had a huge impact with a talk show of her own. As much as I'd like to say it was Ellen DeGeneres, who's seeing a nice ratings surge with her Idol commitments, I'm talking about Rosie O'Donnell.
Before O'Donnell was outed as an incredibly outspoken, controversial and passionate speaker, she was "The Queen of Nice." The Rosie O'Donnell Show ran from 1996-2002, and since then O'Donnell has become a far more polarizing figure, particularly for her short but memorable run on The View. At the same time, it was O'Donnell's personality and passion that made The View into a ratings smash after years on the air without her; a success it continues to enjoy under O'Donnell's replacement Whoopi Goldberg.
O'Donnell is working with syndication veterans Dick Robertson and Scott Carlin, according to Entertainment Weekly, looking toward a fall 2011 launch. With DeGeneres recently shored up on NBC affiliates through 2014, Winfrey's ABC affiliates are looking to local news programs to fill the hour. But, they might consider O'Donnell if there's confidence she can pull the numbers she did once before.
No one can anticipate what the daytime talk show landscape will look like without Oprah, who's been dominant in it for decades. Surely someone will inevitably rise to become the new face of the medium, and it probably won't be Maury. DeGeneres is a strong possibility, but O'Donnell just might be what daytime needs to keep an edge.
Your Daily Blend of Entertainment News
Your Daily Blend of Entertainment News
Thank you for signing up to CinemaBlend. You will receive a verification email shortly.
There was a problem. Please refresh the page and try again.