Is Rosie Perez Leaving The View?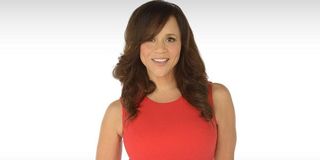 The View has dealt with some major casting shakeups over the last couple of seasons, but this fall the show had cemented a new lineup including veteran cast member Whoopi Goldberg and Rosie O'Donnell, Rosie Perez and Nicole Wallace rounding out the panel. There was hope that the new lineup could grow the show, but now it seems that one panelist could be leaving before the new lineup really gets a chance to cement itself. Reports indicate that Rosie Perez is planning on leaving The View.
Perez hasn't appeared on The View recently, but that isn't a huge surprise. We've known since Perez started the gig that she would be appearing on Broadway for part of The View's tenure this year. At the time of her hiring, she worked out a contract that would allow her to take part in the Larry David's Fish in the Dark on Broadway, returning after January is over. Now, a couple of weeks into the month, Variety is reporting that Perez does not plan to return to the show, at all.
ABC news is currently stating that's not the case and that Perez will be back. After all, at the beginning of the season, the actress signed a one-year contract. Additionally, Perez herself indicated she will be back just a couple of days ago.
Ratings have been falling in recent years on The View, but the new cast has managed to stabilize the ratings, although audiences haven't flat-out fallen in love with the O'Donnell, Perez or Wallace, yet. In fact, ABC News President James Goldston has even stepped in to run and reboot the show—to varying degrees of success. Other reports have indicated that Rosie O'Donnell herself is not happy with the way The View has gone this season and there have been talks about her leaving the series. We wouldn't be shocked if Perez has decided to leave The View. But since neither herself or ABC seem willing to admit she is leaving yet, it seems more likely that she'll stick out her contract to the end of the season, at least. Regardless of whether Perez sticks it out or calls it quits soon, The View is once more facing an uncertain lineup and, in extension, an uncertain future.
Amazing Race & Top Chef superfan with a pinch of Disney fairy dust thrown in. If you've created a rom-com I've probably watched it.
Your Daily Blend of Entertainment News
Thank you for signing up to CinemaBlend. You will receive a verification email shortly.
There was a problem. Please refresh the page and try again.