The View Finally Signs On Two New Hosts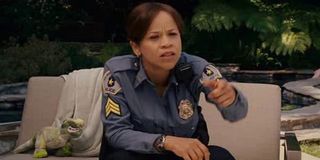 The View is a veteran early morning talk show, but over the past year, it has proved that it is still going through growing pains, cleaning house and forcing the series to sign on a slew of brand new hosts. On Wednesday, news broke that actress Rosie Perez and author and political commentator Nicolle Wallace are close to joining ABC's early morning talk program. Talks are still ongoing, so nothing is official yet, but it is highly likely that the network will want to get the new women in place as soon as possible, as the new season hits the schedule on September 15.
If Wallace and Perez do get the official greenlight, they will be starring on The View opposite Rosie O'Donnell and the only veteran anchor, Whoopi Goldberg, next season. Deadline broke the news, noting that the deals aren't 100% for certain yet. On one hand, Wallace has a ton of experience with the show, tested well in early job screenings and even joined in for an episode. On the other hand, Perez is more of an unknown in terms of pop culture relevance and she has just signed on to play a part in Larry David's new Broadway play. She's apparently trying to work out a schedule that will allow her to also do The View, but her appearance on the early morning series feels a lot more uncertain.
It's actually been quite some time since we've gotten some movement on The View, which is strange, because the network has had time to sign plenty of people since Barbara Walters left the show in May, and Sherri Shepard and Jenny McCarthy were dropped in June. During July, it still seemed as if things were moving forward. Rosie O'Donnell officially signed on for the fall season and will be returning to television for the first time since she left OWN. O'Donnell has worked on The View before and the network knew exactly what it was getting into when it signed on the outspoken comedian. However, when it comes to total newbies, ABC has been slow to find replacements. Now, unfortunately, we are getting into crunch time.
Wallace and Perez certainly aren't as high profile as O'Donnell or Goldberg. Wallace wrote a book called Eighteen Acres which was not widely read and she also as an assistant in the White House during the Bush era. Perez is mostly known for her Broadway work, but she did have a small role in the film Pineapple Express, as well as bigger TV role in the series Lipstick Jungle. All in all, the women should be a good fit, provided they can get their schedules lined up to join the series.
This season, The View has a big opportunity to change its platforms and bring in new eyeballs. With a (mostly) brand new cast, a totally redesigned logo, a new executive producer and no one gunning to avoid having children vaccinated, the show could be headed into a brand new era. Alternatively, the new season could end up being a nightmare. You can find out when ABC's The View hits the network on September 15.
Amazing Race & Top Chef superfan with a pinch of Disney fairy dust thrown in. If you've created a rom-com I've probably watched it.
Your Daily Blend of Entertainment News
Thank you for signing up to CinemaBlend. You will receive a verification email shortly.
There was a problem. Please refresh the page and try again.