Ryan Dunn In Fatal Car Crash, Proving Ground Pulled From G4 Schedule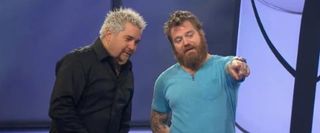 Ryan Dunn, from the hit MTV show (and subsequent blockbuster films) Jackass, passed away this morning after being involved in a horrific car crash. Dunn was always my favorite "Ass," and it's sad we'll never get the chance to see him perform another reckless stunt with a big smile on his face. Our thoughts go out to his family and friends.
After news of his death (around 3 a.m. this morning), EW (opens in new tab) approached the people at G4 TV regarding the status of Dunn's new show, Proving Ground, which debuted just last week. According to the article:
Dunn also made another television appearance (which might be his last with the uncertainty surrounding the rest of Proving Ground) last week on NBC's Minute to Win It, the network's breakout game show of last season. Dunn and fellow Jackass Steve-O competed on the game show for charity and here's a quick glimpse at that appearance.
Ryan Dunn will be missed, and some of his friends have already chimed in: Johnny Knoxville (opens in new tab), Wee Man (opens in new tab), and Dave England (opens in new tab). Rest in peace.
Your Daily Blend of Entertainment News
Thank you for signing up to CinemaBlend. You will receive a verification email shortly.
There was a problem. Please refresh the page and try again.