Ryan Hansen Added To Louis CK And Spike Feresten's CBS Pilot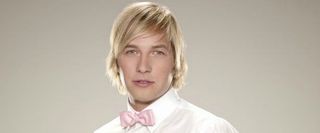 The story of Party Down is all too familiar. Another great show, well written and impeccably acted, that didn't find enough viewers and therefore prematurely bit the dust. The great cast have all landed pretty much on their feet, several nabbing supporting stints on big shows like Glee, Parks and Recreation or New Girl. And even though Ryan Hansen's unfortunately titled first post-Party Down series Friends With Benefits didn't last its first year, he's got another two tries at it this season.
Deadline announced that Hansen has just been cast in the upcoming, and still untitled comedy from Louis C.K. and Spike Feresten set up at CBS. This co-starring gig for the comedians' new pilot comes on the heels of his Fox comedy El Jefe, which started production last month. The Fox series stars Hansen as a 30 something who's finally kicked out of his parents house only to move in with his adoring childhood nanny. Since Hansen's locked in as the lead on El Jefe, the CBS pilot he just booked is in second position, with him signing on as a guest star with an option to become a series regular.
Covering his bases is certainly a smart idea, especially with how things turned out for Hansen's sitcom last season, but I can't help but wonder if the pilot in second position should be his top priority. The CBS comedy not only boasts big names like Louis C.K. and Spike Feresten (a writer from Seinfeld and briefly a talk-show host), but the story also sounds much more promising. The potential series would follow a group of young artists trying to find creative success in the tough financial climate. Hansen will be the pilot's co-lead and roommate to Dan Byrd (Easy A), with the former playing a stoner musician and the latter a sardonic and struggling film editor. I hope one of the two pilots lead to a permanent gig for Hansen because he was always hilarious as Kyle on Party Down and deserves a show that sticks around.
Your Daily Blend of Entertainment News
Your Daily Blend of Entertainment News
Thank you for signing up to CinemaBlend. You will receive a verification email shortly.
There was a problem. Please refresh the page and try again.