Ryan Murphy's O.J. Simpson Show Found Its Johnnie Cochran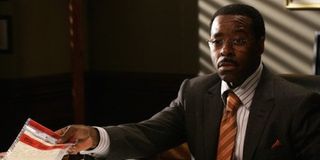 Slated to air sometime this year, Ryan Murphy's American Crime Story: The People v. O.J. Simpson is sure to be captivating. We don't know if it will grab the kind of numbers the actual O.J. trial captured back in 1995, but rest assured, the latest addition of Courtney B. Vance will certainly grab a few fans, as he'll be playing O.J. Simpson's defense attorney Johnnie Cochran.
According to THR, Vance will embody the widely-known lawyer who coined the infamous line "If it doesn't fit, you must acquit" during the closing arguments of the O.J. trial. Vance's role on the highly-anticipated series comes after his wife Angela Bassett worked with Murphy and fellow executive producer and show creator Brad Falchuk on the companion series American Horror Story.
The addition of Vance isn't all that shocking as he did have a decent run on Law & Order: Criminal Intent as assistant district attorney Ron Carver. Not only has he already racked up experience on the legal side of the courtroom, he has also worked on the jury as well with his role of Juror #1/Foreman in the 1997 TV movie 12 Angry Men, directed by William Friedkin.
Here's a shot of Cochran alongside Robert Shapiro and Simpson, to give a hint of what Vance will look like next to his co-stars.
The People v. O.J. Simpson already boasts a "killer" cast including Cuba Gooding Jr. as Simpson, longtime Murphy collaborator Sara Paulson as prosecutor Marcia Clark, David Schwimmer as Simpson's friend and attorney Robert Kardashian and John Travolta as "race card" litigator Robert Shapiro. Could this get any better?
This project is really shaping up to be intriguing. Murphy and Falchuk have already had a tremendous success rate, and when they're combined with writers Scott Alexander and Larry Karaszewski (The People vs. Larry Flynt), the courtroom side of the show is likely to be ridiculous in all the right ways. There are still a couple more key roles yet to be filled, including Nicole Brown's family friend and bit-part actor Brian Kaelin (better known as "Kato") and LAPD detective Mark Fuhrman, who was famously accused of planting evidence at the scene of the crime. The big question is, will the show speculatively play out the crime in progress? Also of interest is whether or not they will include the surreal freeway chase in the white Ford Bronco. That sure was a doozy.
Production on American Crime Story: The People v. O.J. Simpson is set to begin soon in Los Angeles, with Murphy behind the camera.
Your Daily Blend of Entertainment News