Saturday Night Live's Ratings Up With Melissa McCarthy As Host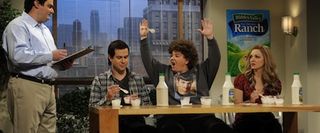 While Alec Baldwin kicked off Saturday Night Live this season by breaking the hosting record with his 16th turn at the job, Melissa McCarthy brought in bigger numbers last weekend when she hosted the sketch comedy show. It's probably also fair to say that she got more laughs and some really great sketches.
According to JustJared, McCarthy's episode of Saturday Night Live was up 4% from the previous week's episode, with a 5.2 rating/13 share. If we wanted to read into the numbers, it'd probably be fair to say that many remember McCarthy from Bridesmaids, if not her CBS sitcom Mike & Molly (for which she recently won an Emmy Award), and wanted to see what she'd do on SNL. She definitely delivered laughs in numerous sketches that will likely be remembered and rewatched for years to come, among which is this one:
Watch the other great sketches from the episode here.
"There's a Hidden Valley Ranch party in my mouth!"
Saturday Night Live airs Saturday at 11:30 p.m. ET on NBC.
Your Daily Blend of Entertainment News
Thank you for signing up to CinemaBlend. You will receive a verification email shortly.
There was a problem. Please refresh the page and try again.