Save Me Review: NBC Comedy Makes Anne Heche A Prophet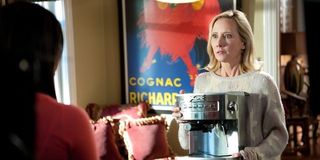 Those who happen upon NBC tonight during primetime expecting reruns, since the usual comedies that air on Thursday night have all wrapped up for the season, may be surprised to find new comedy Save Me's series premiere. Starring Anne Heche, the comedy is among the last gasp of the 2012-2013 season, joining the likes of Fox's The Goodwin Games in being a comedy that didn't make the regular line-up and is being wedged in between the end of midseason and the start of summer season. In other words, hopes shouldn't be particularly high that Save Me will earn solid ratings, but we do get to watch it, which is more than can be said for the Dane Cook comedy Next Caller Please. That one was greenlit and then cancelled before it ever saw the light of day. Ok, we may have dodged a bullet there, but still, it shows that NBC does draw a line, and Save Me managed to come out above it enough to make it onto the schedule.
WIth that in mind, John Scott Shepherd's series isn't that bad. In fact, I'd be willing to go as far as to say that it has some potential, though it might have had better luck if the concept were pushed a bit more toward drama. The series stars Anne Heche as Beth Harper, a wife and mother whose life is a disaster when she finds herself drunk and choking to death on a sandwich. Did she die? Or did she just almost-die? It's not clear. But when she comes to, she vows to turn her life around, patch things up with her teen daughter and try to work things out with her adulterous husband. There's also the matter of her friends, who are barely talking to her. Oh, and did we mention she's now sort of psychic? Beth is convinced that she has a direct link to God. Whether or not that's the case, we don't know, but she does seem to have sudden and mysterious spurts of knowledge that help her connect with the people she cares about.
It should also be noted that references to God and Beth's possible link to the Divine doesn't lead to any deep religious insight, at least not in the premiere. In fact, Beth declaring herself a prophet is part of the humor in this story, and is probably up for debate.
Rounding out the cast are Madison Davenport, playing Beth's daughter Emily, Michael Landes, playing Beth's husband Tom, and Heather Burns and Joy Osmanski playing Beth's friends.
This divine-like comedy does get some laughs, and it should connect, particularly if you're a fan of Anne Heche. Her typical peppy-quirky nature brings life to Beth Harper, and her fast turn-around leaves her loved ones noticeably perplexed at first. Seeing that, I wouldn't have minded having a bit more set-up to show us who Beth was in the before-stage of her life. Understanding who she was would add more value to her redemption. The premiere episode pretty much begins with her in a drunken stupor and leads right into the choking incident. From there, it's all about the turn-around. But my wish that we could have gotten to know the before-Beth may stem from my inclination to think this concept would have worked better as a dramedy. Something in the vein of Desperate Housewives or Ugly Betty, in that it's an hour-long with dramatic arcs that incorporate a humorous tone. As a half-hour comedy, I'm not entirely sure it works - yet, at least. And given its late-in-the-game premiere, it's difficult to feel especially optimistic of the show's chances. But I'll watch more, because it's cute, there's some dark humor, I like Anne Heche... and because there's no new Community or Parks & Rec tonight.
Save Me premieres tonight (May 23) at 8:00 p.m. on NBC. The second episode airs immediately afterward.
Your Daily Blend of Entertainment News
Assistant Managing Editor
Kelly joined CinemaBlend as a freelance TV news writer in 2006 and went on to serve as the site's TV Editor before moving over to other roles on the site. At present, she's an Assistant Managing Editor who spends much of her time brainstorming and editing feature content on the site.
Your Daily Blend of Entertainment News
Thank you for signing up to CinemaBlend. You will receive a verification email shortly.
There was a problem. Please refresh the page and try again.