NBC Cancels Dane Cook's New Comedy Before It Airs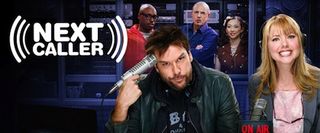 Sorry Dane Cook fans, but it looks like you won't be seeing the comedian on NBC next spring. More times than not, when a show is cancelled, it happens after it's aired at least an episode or two. But, in some cases, it happens before that, which applies to NBC's comedy Next Caller, which received a short series order back in May and was supposed to premiere during midseason. Apparently, after some episodes were produced, NBC decided to pull the plug on it.
Created by Stephen Falk, Next Caller was a half-hour comedy starring Dane Cook as a foul-mouthed radio DJ who's set up to work with a peppy NPR feminist (Collette Wolfe). Deadline posted the news that NBC has pulled the plug on Next Caller, which had received a 6-episode order back in May. From what they're reporting, four episodes of the comedy were filmed and "the network brass had decided that creatively the series was not going in the direction they had hoped for." The four episodes that were made won't air.
NBC still has 1600 Penn and Save Me on deck for midseason, in addition to Go On and The New Normal, both of which are airing now and received full-season orders. We're still waiting for word on the fate of Animal Practice and Guys with Kids, NBC's other new fall comedies.
It's worth noting that this is the second time this year NBC has cancelled a comedy series that featured Jeffrey Tambor. RIP Bent. This recent loss is a bit easier to swallow as it's hard to mourn a series we haven't seen. And fortunately for Tambor, there's always money in the banana stand.
More information and clips from the Next Caller pilot here. And if you're curious, here's a list of other shows that were cancelled before airing an episode. Looks like Next Caller will be joining Commando Nanny and CBS' planned Garbage Pail Kids animated series from back in the 80s.
Your Daily Blend of Entertainment News
Thank you for signing up to CinemaBlend. You will receive a verification email shortly.
There was a problem. Please refresh the page and try again.