Showtime Is Into Guns and B.S.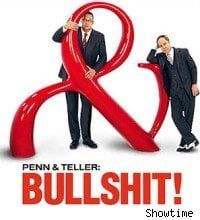 While combining the right to bear arms with Little League baseball may sound like a terrible idea, Showtime is making it work -- in a way. The pay-cable network has just announced that it is picking up a new reality series called Lock 'n Load, about The Shootist gun store in Englewood, Colorado. In addition, it is renewing Penn & Teller: Bullshit for a seventh season.
Lock 'n Load gives viewers a look inside of a busy, family-owned gun store. Set to run for six episodes, Load focuses on salesman Josh Ryan and the myriad interesting customers to whom he sells. There's the collector who is simply fascinated with guns, the thirty-something woman who feels safer with a revolver in her purse, and the teenager who is an expert hunter. The customers are shot via hidden cameras which are only revealed after the transaction is completed, in order to encourage candid behavior.
With its renewal for a seventh season, Penn & Teller: Bullshit is set to become the longest-running series on Showtime. The magicians are back with their own wry brand of social deconstruction to tackle the inherent hypocrisy in a variety of topics including Little League baseball, orgasms, and the fundamentals of astrology. Ten episodes are scheduled to premiere in 2009.
I'm not sure if I'll be checking out Lock 'n Load. Showtime is really trying to convince me that everybody is fascinated with America's gun culture, but I really don't think I am. Penn & Teller: Bullshit, on the other hand, is an amazing show and I'm happy to see that it's still on the air. It actually raises my opinion of Showtime, because any channel that would have that as its longest-running show can't be half bad.
Will you be checking out either show, or will you just be sticking to Weeds?
Your Daily Blend of Entertainment News
Your Daily Blend of Entertainment News
Thank you for signing up to CinemaBlend. You will receive a verification email shortly.
There was a problem. Please refresh the page and try again.