Simon Cowell Tries To Explain Why Less Than 20 Million Viewers For The X Factor Is Still OK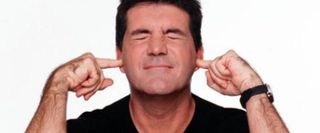 Even you have no interest in American Idol and were glad to see Simon Cowell finally get off your TV screen, it's hard not to keep an eye on the fate of The X Factor. Either you like singing talent shows and want it to succeed, or you're sick to death of them and want this one to die and bring down all the others with it. And there was a definite sense of schadenfreude when The X Factor premiered two weeks ago and brought in just 12.4 million viewers; with Cowell on the record saying that anything less than 20 million would be a "disappointment," it seemed that the mean king of TV had finally been shown up.
Now, of course, Cowell is backtracking, explaining to Access Hollywood that what he really meant to say was that he wanted the show to eventually hit 20 million, not necessarily have it right out of the gate. And he swears, "I do believe-- in time, because I believe in the show-- we're gonna hit those numbers." Of course, Cowell is operating as someone who is used to being on American Idol, which premiered last January for Season 10 with 26.2 million viewers, a number that was actually down from the previous years. Even the series premiere of the show way back in 2002 had higher ratings than The X Factor, and that was before anyone knew who Cowell was.
I don't blame the guy for being optimistic, and it's smart to walk back on those hugely inflated expectations, but it's hard to deny that there's simply less interest in The X Factor than there still is for Idol, the gold standard that Cowell himself created. Maybe X Factor really will hit 20 million one of these days, but it's hard to see Cowell really being able to strike lightning twice.
Staff Writer at CinemaBlend
Your Daily Blend of Entertainment News
Thank you for signing up to CinemaBlend. You will receive a verification email shortly.
There was a problem. Please refresh the page and try again.