Simpsons Joke Inspires Australians To Try And Change The Name Of Country's Currency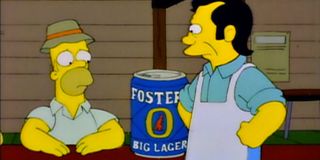 After 27 seasons with more on the way – and a feature film, again with more possibly on the way – The Simpsons has more or less solidified its monumental impact on American culture. Over the years, nothing has been sacred, and the show has skewered everything from American politics and show business to the minutiae of American family life. However, being the phenomenon that they are, The Simpsons have now proven that they are an institution that has had an impact on a global scale.
A petition has begun to get Australia to change the name of their currency, according to The Hollywood Reporter. Like the United States, Australians refer to their money simply as dollars; this petition, if successful, would have the country change that to something a bit more playful: dollarydoos. This name comes from the landmark 1995 episode of The Simpsons titled "Bart vs. Australia," in which Bart Simpson makes a long-distance prank call to the land down under that ends up costing its victim "900 dollarydoos." Check out the joke below for yourself.
Thus far, the petition has already accrued over 17,000 signatures – many from native Australians who have wholeheartedly embraced the joke. Despite the humorous nature of the whole thing, many have signed on to the campaign for more serious reasons. Some have asserted that this campaign marks a real opportunity to enact true democratic change – showing that the little guy still has a voice in a society that has become characterized by the oligarchy of big business. When asked about the campaign, The Simpsons showrunner Al Jean stated that he is all in for the change, as long as residuals are paid to FOX.
"Bart vs. Australia" has since gone on to become one of the series' most iconic episodes, as well as one that established the cartoon as a dominant cultural force of the 1990's. Numerous other jokes and references occur throughout that have become iconic in the years since the episode first aired, such as: knifey spooney, Bart making a prank call to Aouth America that ends up going to Adolph Hitler in hiding, and a joke about the Azaria Chamberlain case.
Even if the campaign to get Australia to alter the name of their currency does not succeed in its objective, it still will have succeeded in reminding us of just how important The Simpsons has become to our shared culture. The show's glory years may be behind it, but that does not devalue its numerous contributions to the global zeitgeist over the last three decades. And be honest, you all kind of what to see how far this goes.
Originally from Connecticut, Conner grew up in San Diego and graduated from Chapman University in 2014. He now lives in Los Angeles working in and around the entertainment industry and can mostly be found binging horror movies and chugging coffee.