Sleepy Hollow Adds Shannyn Sossamon As Series Regular, Get The Details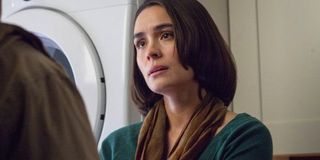 It appears that Fox's supernatural series, Sleepy Hollow is about to add one of the reluctant residents of Wayward Pines. As the show heads into its third season (amidst some major shakeups both plot-wise and behind-the-scenes), the show will be boosting its rank of regulars with Shannyn Sossamon.
Sossamon, who currently plays Teresa, the dramatically displaced wife of Matt Dillon's Ethan Burke on the Fox limited run series Wayward Pines, is staying under the network fold after its impending conclusion. According to TV Line, she will be moving over to a regular spot on Sleepy Hollow, playing a character named "Pandora," who is either Greek mythology's curiosity-prone progenitor of all women, or an enthusiast of Internet-based radio. (/rimshot)
In actuality, based on what little information has been provided about Sossamon's Pandora, she is described as a "mysterious new presence" in the titular New York small town. She, for some unknown reason, has come to seek the help of the series' two main "witnesses," displaced Ichabod Crane (Tom Mison) and the embattled constable Lt. Abbie Mills (Nicole Beharie). The role could be an intriguing turn for the 36-year-old Sossamon, who has been featured on numerous short-lived television series' over the years like Mistresses, How to Make It in America, and Moonlight, as well as films like Kiss Kiss Bang Bang and a main character role in the upcoming Sinister 2.
Yet, Sossamon's addition to the show will come after quite the upheaval of cast members. The recent, rather abrupt exit of Orlando Jones, who played Captain Frank Irving seems to have resulted from the rather disjointed arc of the character, who was killed only to be resurrected and left briefly under the malevolent influence of John Noble's daddy-issue-addled, dark-arts-practicing Jeremy Crane--a character whose role is also now finished. While Irving's angle was eventually resolved, the creative chaos may have left a bad taste in Jones' mouth, inciting his premature exit. Additionally, Katia Winter, who has publicly expressed dissatisfaction with her character, has also apparently exited the series after her role as Ichabod's witchy wife Katrina came to a tragic conclusion.
Consequently, the playing field for Sossamon's Pandora should be wide open as Sleepy Hollow moves into what should be a radically reinvented Season 3 reset that even includes the recently-announced, head-scratching crossover event with Fox's veteran non-supernatural forensic drama, Bones. Given Hollow's reputed pastiche amalgam of mythologies and history, we can presume that Pandora is likely to become a powerful new player in the show's small town center of a biblical-inspired apocalypse.
For Sleepy Hollow, which initially debuted with small expectations in a limited-run format to become the surprise hit of 2013, the road has been rather uneven. The series hit a rough sophomore slump in the ratings. With the exit of showrunner Mark Goffman, replacement Clifton Campbell, known from the underrated police procedural, The Glades, will be moving in, hopefully armed with the proper narrative medicine to fix the fan-fave series.
Will Pandora's presence involve the mythical box she opened that supposedly unleashed all evil unto the world? We shall certainly see when a revamped, retuned Sleepy Hollow returns on October 1 on Fox.
Your Daily Blend of Entertainment News