Smallville's Allison Mack Will Appear On The Following, Get The Details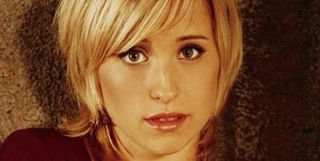 The Smallville faithful can rejoice as their beloved Allison Mack aka techie Chloe Sullivan from the long running drama is returning to prime time. And the move is not to any of the superhero shows that are flooding the networks. Mack is instead returning to the very dark FOX drama The Following starring Kevin Bacon. The serial killer thriller is going into its third season in 2015 but it is unclear yet whether or not she will be an ally or antagonist to Bacon's troubled Ryan Hardy.
According to EW, Allison Mack, who has continued to work steadily since the end of Smallville, most notably on FX's Wilfred , is slated to appear in at least one episode of The Following's third season. Allison will be playing a naive, small-town cop that gets caught up in the web of intrigue that is Hardy's quest to find cult leader Joe Carroll (James Purefoy). It is too early to tell if this one-shot will lead to a more permanent role for season three but fans will just have to wait and see how it plays out.
It will be a Smallville reunion of sorts for Mack, who will again be working with X-Man Shawn Ashmore (Agent Mike Weston) whom she worked with for two episodes on the long running CW adventure series. No stranger to social media, Mack's excitement could not be contained when she tweeted out about her new gig with the Footloose star. Here's the tweet:
Fan favorite Mack has been a stalwart presence amongst the fanboy and girl set at conventions and such, though it does not sound like this new role on The Following will resemble the Allison Mack that we are used to, especially considering the pedigree of The Following and its brutally violent and dark nature. Still, it is always nice to see a classic character actress from a beloved long running show like Mack continue to do good work on A-list TV properties.
Whether or not this will turn into a full time gig remains to be seen, but Mack certainly comes with a built in fan base from her Smallville days. That fact cannot be ignored by Following producers who may realize that they have a proverbial golden goose on their hands with the addition of Mack to the cast of their very dark and twisted cult thriller.
The Following returns for season three with a two-hour premiere on Monday, March 2 at 8 p.m. on Fox.
Your Daily Blend of Entertainment News
Thank you for signing up to CinemaBlend. You will receive a verification email shortly.
There was a problem. Please refresh the page and try again.