Smallville's Allison Mack Headed To FX's Wilfred For Season 2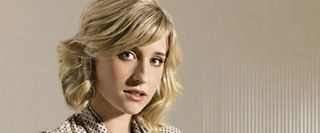 Fans of Allison Mack may spot her in what's sure to be the gloriously gory Piranha 3DD. The former Smallville star is credited for a role in the upcoming horror sequel, due to hit theaters this June. And now it looks like we'll also be seeing her in Wilfred's second season. The FX comedy series also happens to be returning in June.
?Based on an Australian series, Wilfred stars Elijah Wood and Jason Gann as two friends. One of them happens to be a dog, and the other (Wood's character Ryan) sees him as a man in a dog costume who walks on his hind legs and speaks. It looks like Ryan may be finding love in the form of the adorable Allison Mack.
According to Deadline Mack, who played Clark's pal Chloe for more than two-hundred episodes in the CW (formerly WB) series Smallville, will be playing a "major recurring" role on Wilfred. In addition to being the new love interest to Ryan, she's described as "an attractive and edgy biochemist."
Smart, cute, and maybe just a little bit nerdy? Sounds like something Mack's capable of handling. And I have no trouble picturing an adorable (and probably funny) romance brewing between Mack and Elijah Wood's Ryan.