The Social Network Star To Cameo In HBO's The Newsroom Premiere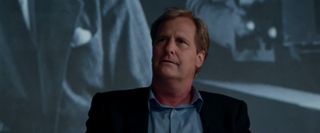 Aaron Sorkin, like a lot of great artists, has a knack for recycling actors who take to his very idiosyncratic material. Or perhaps it's the actors who are vying for another chance to spout his wonderful dialogue? Either way, in that respect Sorkin has become an heir to Woody Allen, and while it seemed like Sorkin's highly anticipated HBO series The Newsroom wasn't going to feature any of his previous favourites, apparently the premiere will indeed have a cameo from a familiar Sorkin face. Well, voice.
The ensemble assembled for the new series, led by Jeff Daniels, is already pretty fantastic, even if it doesn't include any of the several super talented Aaron Sorkin stalwarts (like Martin Sheen or Bradley Whitford), however, if for nothing but a nice bit of trivia, it's pretty rad that (SPOILER) The Social Network star Jesse Eisenberg is making a cameo in The Newsroom premiere. According to EW Eisenberg (who coincidentally is the lead in the upcoming Woody Allen film To Rome With Love) has a "small voiceover role" in the June 24 debut as a 'newsmaker.' I'm not exactly sure what that means, but appearance of the actor in any way, shape or form is certainly welcome since he perfectly handled the signature Sorkin dialogue in TSN which even earned him an Academy Award nomination.
As if we needed more reasons to pine for the first episode of the new show, I mean just watch the first trailer, but news like Eisenberg's cameo or the recent hiring of the hilarious Terry Crews for a recurring role as a bodyguard/life coach for Daniels' McAvoy, are only adding to the anticipation.
The Newsroom premieres Sunday, June 24 on HBO. It stars Jeff Daniels, Emily Mortimer, Sam Waterston, Olivia Munn, Alison Pill, Dev Patel and Jane Fonda. It was created by Aaron Sorkin. The pilot was directed by Joshua Marston.
Your Daily Blend of Entertainment News
Your Daily Blend of Entertainment News
Thank you for signing up to CinemaBlend. You will receive a verification email shortly.
There was a problem. Please refresh the page and try again.