Sophia Grace And Rosie Return To Ellen After A Trip To Disneyland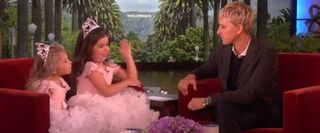 Those adorable little British girls Sophia Grace and Rosie were back on Ellen today, following a trip to Disneyland for which they were "so excited!!!" Check out the video ahead and see what the two girls were up to. This includes an interesting chat about apples with Snow White, and of course, cotton candy!
This certainly isn't the girls' first visit to Ellen DeGeneres' talk show. They recently paid a visit to the series following a trip to the red carpet for Grammy Awards. The cuteness hasn't worn off Sophia Grace and Rosie, who visited The Ellen DeGeneres Show following an adventurous trip to Disneyland, where they got to ride rides, and mingle with the Princesses.
Their trip to Disneyland seems have inspired their first original song. Check out the video below, which has Sophia Grace rapping and singing, after which Ellen presents them with a gift.