No New South Park Tonight, Power Outage Causes Series To Miss Its Deadline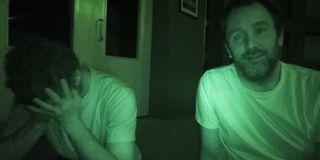 For the first time ever, South Park has missed its deadline, which means there will be no new episode of the long-running Comedy Central animated series tonight. The cable network issued an update today that, due to a power outage, tonight's planned episode, titled "goth Kids 3: Dawn of the Posers" was left unfinished and not ready for air tonight. A rerun will air in its place.
If you've seen the South Park documentary The Making of South Park: 6 Days to Air, you know that series creators Trey Parker and Matt Stone, with the help of their writers and everyone else involved in putting the show together, usually churn out each episode in about a week's time. Given that it takes a lot longer for some animated shows to produce episodes, that's quite a feat. The benefit of such a narrow window of time is that the show can be as current as it wants to be, which works out well when the focus of the episode is on world events, pop culture or any other topical subject. Of course, if the power goes out, it becomes a major problem, and according to Comedy Central, that's what happened last night. The fact that this hasn't happened before and South Park is in its seventeenth season is pretty impressive.
Trey Parker said, "It sucks to miss an air date but after all these years of tempting fate by delivering the show last minute, I guess it was bound to happen."
Indeed. Since "Goth Kids 3: Dawn of the Posers" isn't ready to air for tonight, it'll air next Wednesday (October 23). Meanwhile, tonight Comedy Central will air a Live-Tweeted presentation of "Scott Tenorman Must Die" at 10:00 p.m. ET/PT.
If they have to go with a rerun, may as well go with a classic. "Scott Tenorman Must Die" is an episode from Season 5 in which Cartman exacts some seriously harsh revenge against a kid who tricked him into buying his pubic hair.
While we'll have to wait until next week to see the next new episode, we know at least some of "Goth Kids 3" was finished, as Comedy Central previously released the clip below:
Here are some more night vision shots of South Park Studios in the dark.
Your Daily Blend of Entertainment News
Thank you for signing up to CinemaBlend. You will receive a verification email shortly.
There was a problem. Please refresh the page and try again.