Spartacus: Vengeance Adds Ellen Hollman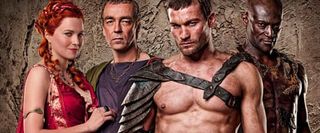 There's been a lot of confusion and mystery surrounding Spartacus' brand new female character. Series creator Steven DeKnight confirmed last week the unnamed woman would be a badass female character and not a gladiator, as TV Guide had initially proposed. But information about her character and identity was shrouded until Friday when word let out: Ellen Hollman is set to play the new character who will be named Saxa.
According to Deadline, Saxa will be "beautiful, vicious, intelligent, and fiercely passionate." Female characters on Spartacus, like many of their male counterparts, have the habit of dying off. A badass chick with spunk has a better chance of making it into a 3rd season than a submissive one. At least by Spartacus standards. Even Lucy Lawless' Lucretia is forced into random submissiveness, so a woman willing to spar verbally and physically would be a nice change of pace.
The better question is whether Hollman--who may be most known for a side role in Skateland--can pull her own weight in a period piece with action sequences. It's a hefty role for a girl who has never had a recurring role on a television series. I hope Spartacus: Vengeance is her big break and not a nightmare for viewers.
Hopefully, Hollman will show up in the Spartacus: Vengeance trailer due tonight. Tune in to Cinema Blend Later to see it.
Your Daily Blend of Entertainment News