Stacy London Bringing Plus-Sized Fashion Show To TLC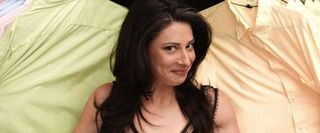 Stacy London's tenure on TLC's What Not To Wear has given her the opportunity to dress women with many shapes, sizes, and dressing preferences. Nine seasons of dressing experience on television is certainly enough to back up a new clothing-oriented television program, and a new show seems to be where London wants to go next. With so much experience under her belt, TLC should be pretty happy to have London on board to executive produce a brand new show.
London is set to executive produce on an as-yet untitled program, which will follow Lisa and Jim Dolan, a married couple who run a plus-size clothing boutique. According to THR, the unscripted program will focus on the Dolan family, as well as customers who seek out the Dolan business - Lee Lee's Valise, located in Brooklyn, New York. BBC Worldwide productions is also set to produce the project.
The new show, while focusing on what one boutique can offer, does sound similar to London's background at What Not To Wear in other ways. Just like What Not To Wear, the Dolan family mission at Lee Lee's Valise will be to revamp the wardrobes of their clients and to give them insider tips about how to dress successfully. If the Dolans can help women to dress successfully while remaining tactful about the changes, I can see the show doing well. Apparently, London has faith as well, since this is not her first partnership with the boutique. Lee Lee's Valise has dressed several subjects on What Not To Wear throughout the years, including Heather, back in September of last year.
Your Daily Blend of Entertainment News