Starz Wanted To Make Fifty Shades Of Grey A TV Series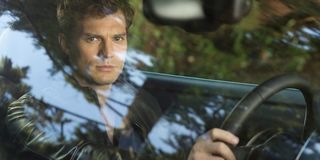 Would Fifty Shades of Grey have worked better as a TV series? That's a what-if scenario that fans of the book may be wondering once the feature adaptation of E.L. James' steamy novel arrives in theaters. As it happens, there was at least one premium cable channel that had its eye on the project. Starz CEO Chris Albrecht says he had a pitch for a TV adaptation of Fifty Shades of Grey.
EW shared Albrecht's comments on the subject of a Fifty Shades of Grey TV series at the TCA press tour on Friday. The subject came up during a presentation for Starz's upcoming adaptation of Diana Gabaldon's Outlander. As novels go, Fifty Shades of Grey and Outlander are very different in tone and setting, however there are a couple of very general similarities, in that both involve romance and some steamy sex scenes, and both have devoted fanbases which consist of a lot of (if not mainly) women. But when it comes to the story and the writing style, Outlander fans would probably tell you that Fifty and the Scotland-set period drama have very little (if anything) in common, and we're inclined to agree. But on the subject of books that may be better adaptable to the small screen than the big, it's easy to see how Fifty Shades of Grey might come up.
Albrecht said his pitch for a Fifty Shades of Grey TV series would have been to adapt the trilogy of novels into a three-season TV drama, with each book playing out over the course of a season. The movie rights for Fifty Shades of Grey went to Universal and Focus Features. Albrecht said he actually called Universal up and told them "I'll get you three years on the air as a series," noting that they wouldn't have to worry about box office or the movie's rating and they could tell the story right away. "But movie people think things should be movies, and authors think things should be movies."
We actually pondered whether Fifty Shades of Grey might be a better fit for a pay-cable series back in 2012, when the movie rights for the book were first picked up. It's true that there does still seem to be higher esteem with film than there is for TV, but Game of Thrones is a prime example of just how well TV can deliver a proper book-to-screen adaptation. It's impossible to imagine a two-(or even three)-hour movie covering the amount of story and character arcs featured in George R.R. Martin's books. The same might be said for Diana Gabaldon's Outlander series. The novels are dense, and it's hard to picture a movie managing to capture the full scope of the story and character development as well as a TV series (hopefully) will.
The above said, Fifty Shades of Grey isn't a dense novel. And as likely as it is that some aspects of James' book will be trimmed down or cut out entirely in the adaptation, it seems like the bulk of the story would fit into the space of a movie. However, there are other benefits to going with television over feature film. As Albrecht mentioned, with a film, there's the box office, release date and rating to worry about, which wouldn't apply to TV, where a premiere date might be more flexible, and a rating is less of a concern, especially at Starz. Those who've seen Spartacus know that Starz isn't averse to "strong sexual content" and nudity.
Whether or not fans are satisfied with the feature adaptation of Fifty Shades of Grey remains to be seen. We'll know next February when the film arrives in theaters. But as a TV fan, it's promising to see more cable and pay-cable channels looking to books for their series, as many of them probably would play out better episodically than they might as one big, condensed movie, or even a series of movies. Starz has Outlander coming this August, while FX just premiered the small screen adaptation of Guillermo del Toro and Chuck Hogan's The Strain last night. HBO has Game of Thrones and more recently, The Leftovers (based on Tom Perrotta's novel). And Lifetime's been dipping into older series, with TV movies based on V.C. Andrews' Flowers in the Attic books, and a possible Clan of the Cave Bear series.
Assistant Managing Editor
Kelly joined CinemaBlend as a freelance TV news writer in 2006 and went on to serve as the site's TV Editor before moving over to other roles on the site. At present, she's an Assistant Managing Editor who spends much of her time brainstorming and editing feature content on the site.
Your Daily Blend of Entertainment News
Thank you for signing up to CinemaBlend. You will receive a verification email shortly.
There was a problem. Please refresh the page and try again.