Steven DeKnight's Sci-fi thriller Incursion Scripts Written And Awaiting Starz's Final Decision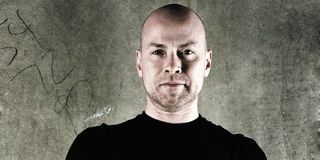 I doubt I'm alone in hoping for good news for Steven S. DeKnight's sci-fi project Incursion. With Spartacus: War of the Damned wrapped up, those of us who enjoyed DeKnight's creative and dramatic take on the gladiator's story are surely eager to see what the writer does next. We learned last year that Incursion was in the works, and the latest update is that the writers room is closing up shop on the project, but from the sound of it, that's not actually bad news.
It's not really good news either. It's just an update. Deadline says the writers room for Incursion has started to ramp down because there are enough scripts written to fit a full series order, should it get one at Starz. The premium cable network tends to send their developing projects straight to series once the decision is made to move forward with them, so if Starz does decide they like what's been written, it'll hopefully mean the full green light for the series. Starz is reportedly currently evaluating it now.
DeKnight has gone from the past with Spartacus to the distant future for Incursion, which would be a sci-fi action thriller about a squad of solders fighting in a war against a hostile alien race. It would be set up so that each season, the battle would be fought on a different planet, allowing for some drastically different environments. We talked to Steven DeKnight about the project at Comic Con last year and he told us they'd be aiming to film in different locations rather than using green screen.
Here's hoping things work out for Incursion. It sounds very different from Spartacus, but DeKnight has proven he knows how to run a series - and a good one. He also has plenty of writing experience on great shows. Prior to Spartacus, his writing credits include Smallville, Buffy the Vampire Slayer, Angel and Dollhouse.