Stockard Channing Will Guest Star In The Good Wife's Season 4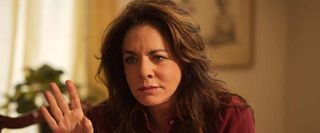 Grease's Stockard Channing will have to put on a different hairdo for an upcoming role. The former West Wing actress is headed to CBS' The Good Wife, to guest star in a very important role for the series. In Season 4, Channing will join the show to play Alicia Florrick's mother.
Both Channing and actress Julianna Margulies, who plays Alicia on the CBS drama, have brilliant brunette hair and really strong faces. They aren't practically doubles of one another, but I buy it. According to EW, Alicia's mother will be a fickle character with a bit of a hippie mentality, which is pretty much the opposite of what we know about Alicia.
Stockard has not been acting as often since her tenure on The West Wing ended. Her recent TV roles include a guest episode on The Cleveland Show and a couple of failed pilots, including Ron Moore's 17th Precinct and the Mandy Moore vehicle Family Trap. Hopefully, the guest stint will give her enough of a boost to help remind casting people that she could be a good fit. Who knows? EW is noting Channing's character is only scheduled for one episode right now, but she may end up appearing in a lengthier story arc. I really miss First Lady Abbey Bartlett and I hope Channing finds a good TV home soon.
Channing joins a ton of guest stars in Season 4, including but not limited to Kristin Chenoweth, Christina Ricci, and Annabella Sciorra. New episodes of The Good Wife begin airing on Sunday, September 30 at 9 p.m. ET.
Your Daily Blend of Entertainment News