Kristin Chenoweth Officially Bows Out Of The Good Wife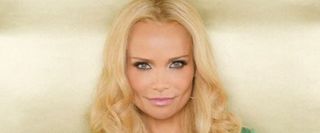 In its usual star-powered fashion, CBS' The Good Wife nabbed some big names for its upcoming fourth season, enticing Broadway alums Nathan Lane and Kristin Chenoweth to sign on for recurring roles. Some of Chenoweth's scenes were shot last month, but, after an onset accident several weeks ago, the GCB star has decided to cancel the rest of her appearances on the show.
On July 11, Chenoweth was happily shooting a scene for The Good Wife when some wind knocked some lighting equipment off kilter and a large piece fell, only to hit Chenoweth on the head. The 44-year-old actress was rushed to the hospital, but was sent home a day later wearing a neck brace. In the weeks following, Chenoweth has had plenty of time to recover from the horrific accident; however, TV Line is reporting the actress has ultimately decided to change her status on the The Good Wife from recurring to that of a one-episode guest stint.
Chenoweth will still appear in the Season 4 opener, thanks to having already shot her scenes. Unfortunately for fans, her character, a political reporter trying to weasel her way into Peter Florick's campaign, was also expected to appear in several more episodes early in Season 4. Chenoweth has not been explicit about exactly why she will not return to the show, but a statement to People seems to indicate she may still be feeling a bit under the weather.
Whether or not Chenoweth is still suffering from her injury, getting hit with a piece of heavy equipment is still a big scare. It's completely understandable if the actress does not feel up to returning to the set, especially since she was only supposed to appear in a few episodes of the hit show. It's just a bummer her departure will cause a gap for the writers who worked so hard to get Season 4 on the road. It will be difficult to replace Chenoweth with another actress playing the same character, but I wonder if that's a feat the show will be forced to attempt.
CBS' The Good Wife premieres on Sunday, September 30 at 9 p.m. ET.
Your Daily Blend of Entertainment News
Thank you for signing up to CinemaBlend. You will receive a verification email shortly.
There was a problem. Please refresh the page and try again.