The Strain Season 2, Episode 6 Watch: The Dark Strikes Back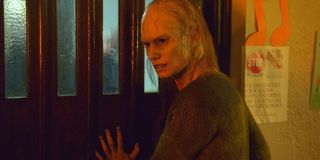 Last week on The Strain: Eph made a beeline to Washington D.C. as New York City was starting to solidify its plans to fight the evil vampire menace. With the help of Fet, Nora, and Dutch, Councilwoman Ferraldo was clearing Red Hook of as many vampires as possible. Yet the likes of Eldritch Palmer and his evil compatriots were not quaking in their boots just yet, obviously holding cards that they would play this week.
"That's one of the more difficult things about fighting this disease… it fights back."
Eph is in more hot water than he possibly ever could have imagined, and it all seemed to be going so well. Using Rob Bradley, his contact in Washington D.C., the good doctor had his plan to mass produce and disperse the bioweapon that he and Nora developed in New York. With the help of Leigh Thomas, a contact at a private sector company that can help in the mass production department, things look like they're going well for the survival of mankind. We even see Eph falling for Leigh a bit as the two of them become romantically entangled. But by the end of this week's adventures, we find out that The Stoneheart Group really is that good at quashing any threat to its plans, as an assassin took out Eph's friend and new crush.
Meanwhile, in New York, a potential long-term ally has been eliminated, as Reggie Fitzwillams fell afoul of one of The Master's Feelers and took a bite to the leg. In short order, Professor Abraham Setrakian released him in the church that Nora and Zach were hiding out in. It was quick and easy, after Reggie made Abraham promise he'd tell his brother that he tried his best. This was a result of a rather intense chase between Nora and Kelly, as both women were engaged in a battle for young Zach's fate. The youngest Goodweather will have a hard choice to make should the battle lines be drawn again, as not only does he love his mother but he's also warming up to Nora as a mother figure.
"I will stop him, by for my own reasons."
Meanwhile, in the darker corners of New York City, not all is lost for the heroes of humanity. Mr. Quinlan (if it's really him this time) has arrived in New York and hooked up with the Ancients. After a good tongue lashing that addresses how the Ancients failed to act on The Master's misbehavior in the past, Quinlan promised that he will take down The Master. All he needs is human hunters on his side, and lucky for him, Gus is still alive after the fiasco at Palmer's penthouse. Even better still, Angel Guzman Hurtado (aka "The Silver Angel") has finally been convinced to accept his past and it looks like he's still able to kick some undead ass. He might be slow, but he's still fierce, and it's only a matter of time before these two sides meet up - which is good, because some big changes are going on with the forces of evil.
"The great transformation is imminent, Gabriel… you are blessed to be invited to witness it."
The Master has chosen his rightful successor, and it is none other than former rock star Gabriel Bolivar. Re-enacting the ceremony we saw at the beginning of the season, where Sardu inherited his dark and eternal curse, Bolivar received The Master's blessing and became the most powerful dark vampire known to humanity. Naturally, this is going to upset a couple of people, and we already saw one of them cursing the futility of their situation. Thomas Eichorst was on hand to see the transformation, and just when he was getting used to calling himself Master. For now, he still swears fealty to the forces of darkness, but don't count on a man like Eichorst to stay subservient for long.

With "Identity" in the books, we're almost halfway through the second season of The Strain. The Master is ramping up his efforts, and now Eph is going to have to figure out how to get home while avoiding the net cast to catch him. Hopefully he'll be in time to prevent any further casualties on the side of good, and especially before Kelly tries to make another move for custody of Zach. Join us next week as we tackle another hour of darkness in episode 7 - "The Born." However, if you want to stick around for a little more spoiler action, head over to the next page for "Nitpicks, Notes, and Nods!"
Nitpicks
The Master does not transfer from Sardu to Bolivar until the end of The Fall. Another big change from the books is the fact that Everett Barnes has been reported dead, thanks to his run in with Eph on the train last week. In the book series, Barnes survives as one of The Master's lieutenants, and aids in a lot of what's to come.
If memory serves correctly, Fitzwillams doesn't flip sides, nor does he succumb to a vampire attack.
Notes
It's still weird to see Corey Stoll's natural baldness on display, especially after getting used to Eph with his head of hair.
Zach seemed to lighten up a bit this weekend, especially with his scenes involving Nora. Where the hell was Dutch this week? Also, there was too little Fet or Gerraldo tonight. Something tells me those two will end up together, should Dutch get vamped in the next season or two.
Nods
The consistent mention of The Stoneheart Group's plans and real estate purchases are building a lot of what you'll see in the last two seasons of the show, provided it sticks to The Night Eternal.
Reading Assignment: None This Week
Senior Movies Contributor
CinemaBlend's James Bond (expert). Also versed in Large Scale Aggressors, time travel, and Guillermo del Toro. He fights for The User.
Your Daily Blend of Entertainment News
Thank you for signing up to CinemaBlend. You will receive a verification email shortly.
There was a problem. Please refresh the page and try again.