The Strain Season 2, Episode 5 Watch: Knowledge Is Power, But A Rebar Also Helps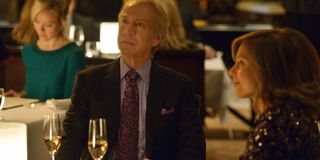 Last week on The Strain, there was a good amount of flashbacks and dour character development. While this serves the slow burn of the series' three-book storyline, viewers have been complaining that "nothing" was happening, which usually equates to a lack of action. This week, the action and emotion are turned up in equal measure – making this week's episode title all the more appropriate. Time to get this recap over, "Quick And Painless."
"I'm making the decision this time, Eph. You're going to do this alone."
Eph made a huge move this week, as he procured a new ID and gave himself a new look to get out of New York City. With his plans for mass dispersal, and a sample of the new pathogen he and Dr. Martinez created in hand, the good doctor adopts a false name and heads on a Government transport straight to the heart of government. Unfortunately for him, his former boss and Stoneheart collaborator Dr. Everett Barnes is also on that train. While he tried to skulk about and avoid Everett's gaze, the two crossed paths and gave us a close quarters brawl that livened things up this week. Eph made it to DC safely, but he didn't make this week's biggest action sequence.
That honor goes to Fet, Dutch, and the Justine Ferraldo's New York Safe Street Initiative, as they finally teamed up and went on a muncher hunt! The experienced vampire hunters schooled the n00bs in advanced weapons and tactics, treating them to a show that culminated in a silver grenade attack on a cluster of bloodsuckers sleeping at the bottom of an elevator shaft. Having some experienced personnel is just what Ferraldo's task force needed, as they've suffered some losses trying to clear out the Red Hook neighborhood and are still having a problem screening potential carriers of the plague. Unfortunately, the loss reaches a level even the Councilwoman was unprepared for.
"I've been asking my own people to be okay with this. I can't even do it.
While helping update the New York Safe Street Initiative's screening process, Councilwoman Ferraldo has Nora screen her cousin Mikey, whom we last saw unveiling the anti-vampire "monument" in Staten Island, before watching him get knocked down some stairs during this week's opening raid. Sure enough, the little nick on Mikey's neck was a signal of infection, leaving Justine with a tough choice to make. After seeing friend and co-worker Jim Kent (as well as her own mother) succumbing to the change, Nora is more ready than most others to help end Mikey's pain. Up until this point, it's been politics for Justine – but now it's personal. Though she's not the only person who's experiencing some changing personal fortunes.
"Denial is a special privilege of the rich."
An interesting turn of events occurred this week, and while the evening started with dinner and ended with dancing between Eldritch Palmer and Coco Marchand, the middle of the festivities saw a rather odd occurrence happen in said fine dining establishment. Palmer and a dear friend of the New York Catholic diocese had a rather vague conversation about an "object" he was looking to acquire. Just like the old days, Abraham Setrakian is also looking for this "object," which is undoubtedly the Occido Lumen that's served as a huge narrative thrust for this season's activities. While Palmer has the clergy on his side, Setrakian has Gus's former business partner Alfonso Creem on his side, as well as the recently resurfaced Mr. Fitzwilliam.
Though by the look of this week's final act, it appears one more ally may have surfaced in the war against The Master and his children. A private plane lands in New Jersey, with its client already departed by time airfield security comes to check up on him. We see a car pull up to the chain linked fence of the airfield, and a rather pale man of vampiric classification get into the car. His human familiar asks him if he's good to go, and we end our episode with the affirmative. After all this waiting, and a false positive in the middle of season 1, it looks like we've finally met the legendary Mr. Quinlan!
?Rating:
?
We saw destruction and devastation, with a touch of romance in the course of the breezy run time for "Quick And Painless." Next week looks to be even more insane, as the supposed Mr. Quinlan is swearing to take out The Master, but for his own reasons. Joins us next week, as we recap "Identity," the sixth episode of The Strain Season 2! If you're dropping off at this moment, we'll see you next week for the recap. But before you go, please join us in celebrating The Strain's recently announced pick up for Season 3. And if you're in for a little more time in the lab, then head on over to this week's Nitpicks, Notes, and Nods.
Nitpicks
Eph and Barnes never had that little moment in the train. There was no train ride, and the two men never fought. If anything, Barnes was always a jerk who hid behind his post, and had others do his dirty work.
Notes
You know, if the Police teams had UV lamps, they'd be able to determine vampires from people. But then again, they'd have to be working with the right people.
Holy shit! A natural Corey Stoll emerged tonight, no doubt freshly sheered for his role in Ant-Man.
For as much as I despised the man in the book, this new romance is somewhat endearing the monster that is Eldritch Palmer to me. That one moment with him and Coco has me hoping he can redeem himself before the end, but I still highly doubt it.
Nods
The opening sequence is straight out of the first few pages of The Fall, though it occurred before the Feelers were even in the picture and the vampire was a teenager.
Reading Assignment: P. 77 - 132
Senior Movies Contributor
CinemaBlend's James Bond (expert). Also versed in Large Scale Aggressors, time travel, and Guillermo del Toro. He fights for The User.
Your Daily Blend of Entertainment News
Thank you for signing up to CinemaBlend. You will receive a verification email shortly.
There was a problem. Please refresh the page and try again.