Supergirl: We Finally Know What Happened To Martian Manhunter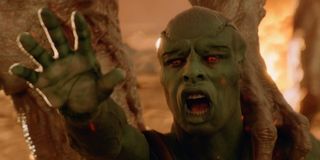 Warning: spoilers for last night's Supergirl episode are ahead!
When Hank Henshaw first revealed himself as J'onn J'onzz on Supergirl, he also referred to himself as the Last Son of Mars. While he didn't provide any other details about that title, it was easy enough to understand that he was the only survivor of the long-dead planet. J'onn, aka the Martian Manhunter, didn't explain how his people perished at the time. But in last night's episode, "Strange Visitor from Another Planet," his emotional wounds were reopened when a White Martian appeared, trying to track down J'onn after it sensed him using his powers in last week's episode. We soon learned that the White Martians are more than just your standard alien villains; they also carried out the slaughter of the Green Martians.
After the main characters saw how the White Martian had replaced Senator Miranda Crane and infiltrated the DEO, J'onn opened up to Alex Danvers about how his people were eradicated long ago. When the Green Martians went to war with the White Martians, they were overwhelmed by the "fire traps" the White Martians had built underground. (It's worth noting Martian Manhunter's weakness in the comics is fire.) From there, it was impossible to not see the Holocaust parallels when the Green Martians were rounded into camps and systematically murdered. Although J'onn swore he would protect his wife and daughters, they too were killed in the White Martians' furnaces. So even though J'onn escaped captivity, he'll have to live with their screams echoing in his head until the day he dies.
Understandably, when the White Martian exposed itself, it threw J'onn off his game, and even worse, it was always a step ahead of the protagonists. So when the White Martian provided an opportunity for J'onn to turn himself over in exchange for Alex's safety, J'onn wanted to take it, since he was tired of surviving and wanted to "rejoin" his family, but Kara convinced him to keep fighting, and together, they overpowered the White Martian. What Kara didn't know was that J'onn had brought along a pair of Kryptonite restraints, and he quickly snapped them on her so he couldn't stop her from killing his mortal enemy. Fortunately, even without her powers, Kara was able to talk J'onn out of lowering himself to the White Martian's level, and now the savage beast is the newest addition to Fort Rozz's prison.
Despite not being Supergirl's lead hero, Martian Manhunter has a a lot of backstory from his 60 years of comic book appearances, and how he became the Last Son of Mars ranks chief among them. That's why it was good to finally learn what happened to his people in Supergirl, even though the tale was tragic. As for the White Martians, it stands to reason we'll see them again, only it won't just be one of them trying to kill J'onn. This also won't be the only time we take a look at J'onn's past, as upcoming episodes will explore his time on Earth before becoming Hank Henshaw, including what exactly happened when the real Hank found J'onn with Alex's father, Jeremiah Danvers. To put it simply, there's still a lot to learn about our Martian protector.
New episodes of Supergirl air Mondays at 8 p.m. EST on CBS (opens in new tab).
Your Daily Blend of Entertainment News
Connoisseur of Marvel, DC, Star Wars, John Wick, MonsterVerse and Doctor Who lore. He's aware he looks like Harry Potter and Clark Kent.
Your Daily Blend of Entertainment News
Thank you for signing up to CinemaBlend. You will receive a verification email shortly.
There was a problem. Please refresh the page and try again.