Supergirl: What Actually Drives Martian Manhunter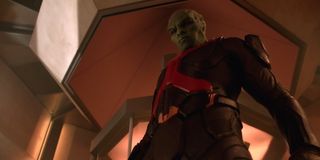 Undoubtedly the biggest surprise Supergirl has delivered so far is when Hank Henshaw was revealed to actually be J'onn J'onzz, a.k.a. the Martian Manhunter. Although he's appeared in every episode so far, we don't know much about J'onn other than he's the last survivor of Mars and, like his comic book counterpart, he wants to keep his new home safe. Now that the secret's out (among Kara and Alex, anyway), viewers will be learning more about the Martian, including how he's driven to make sure that Earth doesn't fall to the same fate as Mars.
After revealing how an upcoming Supergirl episode will show how J'onn "became" Henshaw, executive producer Andrew Kreisberg explained at TCA (via IGN) that while J'onn, like Henshaw, wants to protect Earth from extraterrestrial threats, his reasons are due to his losses. Kreisberg said:
As you can see, J'onn shares that kind of similarity with Kara, who lost most of her people when Krypton exploded, although a few Kryptonians (like relatives Kal-El and Astra) are still around in Supergirl. Since he's the Last Son of Mars, J'onn must now use the Henshaw identity and his position at the DEO to make sure Earth is protected. He wasn't able to save his fellow Martians, but at least he can do his best to look after the humans.
Executive producer Ali Adler added that while J'onn acts as a mentor to Kara, she will help him come out of his shell a little bit. Thanks to J'onn's shapeshifting ability, he can blend in with humanity, but in his natural form, he looks like a monster. Although we briefly saw Hank change into his familiar form in "Human for a Day," if the show is anything like the comics, then that wasn't J'onn's true alien look, something he rarely likes to show in front of humans. So yeah, walking around in public like that probably wouldn't be a good idea.
Fans won't have to wait long to learn more of J'onn's backstory. Episode 11, titled "Strange Visitor From Another Planet," will introduce a White Martian, a member of the alien race responsible for the eradication of J'onn's people. The episode Kreisberg mentioned will feature flashbacks of how J'onn was found by the real Hank Henshaw and nearly died if it hadn't been for the sacrifice of Kara's adoptive father Jeremiah Danvers. Hank also died during the encounter, but who knows, maybe there will be a tease in the last scene of that episode where we discover he's still live, leaving the door open for him to eventually return as Cyborg Superman.
New episodes of Supergirl air Mondays at 8 p.m. EST on CBS.
Your Daily Blend of Entertainment News
Connoisseur of Marvel, DC, Star Wars, John Wick, MonsterVerse and Doctor Who lore. He's aware he looks like Harry Potter and Clark Kent.